Christopher Buschur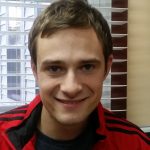 I am originally from Urbana, Ohio, which is between Dayton and Columbus. After graduation, I came to Ohio University as a student and decided to major in Communication Studies. Eventually, I also added a minor in World Religions.
Early in my Freshman year, I became involved in the Ohio University Catholic Community and I sought to become more serious about my faith. This is how I first heard about Good Works. Throughout my first few years of college, the OU Catholic community was involved with Good Works, hosting Friday Night Life and occasionally being involved in other volunteer projects, such as helping out with the Good Works Walk. Overall, I got a good impression of them and admired their approach to tackling poverty in Appalachia; though, I never really considered working for Good Works at the time.
Going into my senior year, I was looking for an internship; preferably, one that would be a meaningful experience, and would allow me to go outside myself and serve others, as well as help to foster my spiritual life. A friend of mine had interned with Good Works the year before and strongly recommended the Summer Service internship to me. I was nervous at first and debated it back and forth, but this is where I felt called, so I took the plunge and Good Works graciously took me on as a Summer Intern.
This leap of faith paid off, and my summer experience was a wonderful blessing. In fact, I was sad to leave. However, I had heard that the Timothy House was looking to hire someone for a Night Staff position. After some discernment, I decided to pursue this opportunity. Long story short, I was offered the part time position of Night Shift Supervisor, and I love my job! I am blessed to work with staff and residents; and they teach me something new every day.