Friday Night Life
More and more, the desire grows in me simply to walk around, greet people, enter their homes, sit on their doorsteps, play ball, throw water, and be known as someone who wants to live with them. It is a privilege to have the time to practice this simple ministry of presence. Still, it is not as simple as it seems. My own desire to be useful, to do something significant, or to be part of some impressive project is so strong that soon my time is taken up by meetings, conferences, study groups, and workshops that prevent me from walking the streets. It is difficult not to have plans, not to organize people around an urgent cause, and not to feel that you are working directly for social progress.

But I wonder more and more if the first thing shouldn't be to know people by name, to eat and drink with them, to listen to their stories and tell your own, and to let them know with words, handshakes, and hugs that you do not simply like them, but truly love them.— Henri Nouwen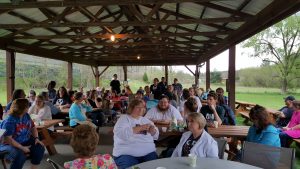 FRIDAY NIGHT LIFE will celebrate 25 years this spring. We began Friday Night Life (FNL) in 1993 when we invited residents of The Timothy House to come back on Friday Nights for dinner in order to stay connected with our community. Later that year, we moved FNL to Central Avenue United Methodist Church because the Timothy House did not have the capacity to provide for the number of former residents who were coming back to visit. After 8 years, the event out-grew Central UMC and we moved FNL to The Plains United Methodist Church. Today, Friday Night Life hosts 100-150 people each week and is offered to the community from 4:30-7:30 p.m. Friday Night Life is held in the Family Life Center of The Plains Methodist Church from October to March and at the Good Works property on Luhrig Road (picnic style) from April to September. Friday Night Life is designed to bring together the residents of the Timothy House, and the people of Athens County into a community of HOPE where people can establish trust, build friendships, help one another in practical ways, encourage one another and discover new ways to love and serve one another.
For general Information on how to sponsor a supper, click here.
FRIDAY NIGHT LIFE has several different components:
Each week, a different church or community organization (not less than 7 and not more than 14) volunteers to sponsor Friday Night Supper by providing the food for the meal. Sponsors arrive at 4:00 pm, are welcomed by a Good Works staff person and are provided with additional information about how Friday Night Life and the meal portion work, with the goal to have the dinner ready by 5:30 p.m.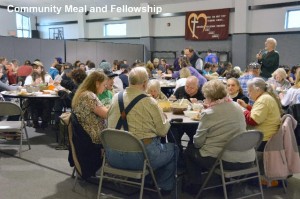 At 6:30 p.m, a wide variety of activities take place. These include, volleyball, basketball, poetry, art, bible study, live music, health education, special presentations and clean-up. A special KIDS CLUB is held for kids ages 5-17.
At 7:30 p.m, take-home food is provided to any participant of Friday Night Life who has signed up to receive take-home food. Take-home food is usually a bag full of non-perishable items. Around 35 families and individuals receive take-home food each week. Also at 7:30 p.m., all participants who sponsored the dinner are requested to join a conversation with the Good Works staff to reflect on their experiences and to learn more about the vision and hopes of the Good Works community.
If you think you might be interested or would like more information on how to sponsor a supper, you can contact Sherilyn Weinkauf at (740) 594-3339, or email us.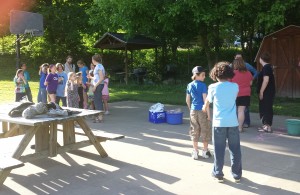 FRIDAY NIGHT KID'S CLUB, which begins at 6:30 p.m. gives local kids (and children living at The Timothy House) an opportunity to develop friendships outside of school and gives former Good Works residents' children the opportunity to stay connected with the Good Works community. Friday Night Life provides inspirational and educational activities for children of Athens County and children in the neighborhood. Leadership for the Kids Club is provided by the Good Works staff along with volunteers from the Athens area.
Schedule
4:00 pm = Sponsoring Group arrives on site.
4:30  pm = "Doors Open" and people arrive.
5:30 pm = Community Building events and Dinner starts!
6:30 pm = Kids Club/ Teen Club and various adult activities.
7:25 pm = Take home food is provided !!
7:30-8:00 pm = Sponsor Group Reflections.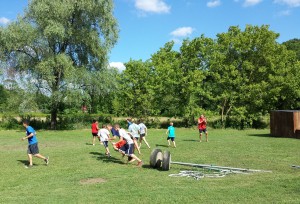 For information on how you can become a volunteer at Friday Night Life, visit our Volunteer Opportunities page and click on Friday Night Life.