What's Happening Now
Updated November 18, 2017
We have recently changed our email to email@good-works.net
Our October newsletter is here!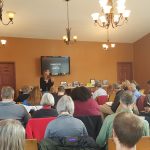 We hosted our 5th annual one-day conference called GOING DEEPER on November 11th.  It was wonderful!  We are so thankful that so many people were interested in the workshops we presented about justice for fatherless children, developing a theology of work, justice for the widow, walking with people in recovery and welcoming the stranger.  We also presented on (1) Worship as the Primary Paradigm of Mission and (2) What it Means to Strengthen the Weak.  Love God, Love people.  Do stuff. Please join us in the fall of 2018 for another Going Deeper.
HALLOWED GROUND is our agricultural internship for anyone interested in joining our community for 8 months in 2018. We seek to grow healthy and nutritional food for our neighbors, especially those who are widows or struggling with a disability as we study, worship and learn together about growing food. Know someone who has a passion for agriculture and wants to grow in their faith and use that passion to care for the poor? Would you pass this opportunity on?
Appalachian Immersion Internship begins in early January 2018. Iterns live in the Hannah House and are offered a wide range of hands-on experience within the ministries of Good Works.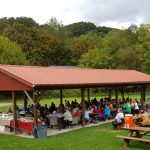 FRIDAY NIGHT LIFE is now in year 24. We started Friday Night Life in 1993 when we invited residents of The Timothy House back for dinner on Friday's after they moved out. We have built long-term relationships across generational lines and across the lines of class. This community reveals an amazing 'coming together' of people from all walks of life. For six months each year FNL meets on the Good Works property and for six months we meet in the Family Life Center of The Plains UM Church. On a low day, FNL hosts about 75-90 and on a high day about 140-150. Adults are building mentoring relationships with children and teens. The youngest participant is less than 1 year and the oldest participant is around 93 years old. We are so thankful for the life-giving community FNL has become for so many people. To God be the glory!
SUMMER SERVICE 2017 finished on August 11
2,081 – The number of meals provided to adults and children through Summer Lunch. Heart-felt thanks to Darlene Wasserman, her team of volunteers and to everyone who helped us locate food!
88- The number of community volunteers who provided 36 different presentation to the Kids Discovery Club over the seven week period. Heart-felt thanks to Emily Axe and her team of interns and volunteers who made the 10th year of this amazing experience for children so enriching! Here is a link to a 30 second slide show from Summer Service.
54 –  The number of different local children who registered for Discovery Kids Club this year with an average of 27 kids participating each day! Grateful for our strong support from the people of The Plains United Methodist Church.
15 – The total number of interns who participated in Summer Service.  7 of these interns provided the day-to-day leadership which facilitated our Work Retreats, Teen Ag and Kids Club.
7 – The number of different week-long work Retreat Groups who participated in Summer Service this year!
16 – the number of different Good Works Gardens this year. We have two community gardens and the other gardens are at the homes of those we help through Neighbors Helping Neighbors.  This summer, 5 Teen Agricultural Interns participated with us as we spent time at the homes of people in Athens County and helped them with a garden. Our work with gardens is ongoing. We welcome volunteers to work with us once a week!
On an average year, we host around 40 groups who come to Athens, stay in our dorms and participate in Neighbors Helping Neighbors.  Last year, we visited and served 61 families or individuals, and led around 225 different projects at their homes!  Maybe you'd like to explore a conversation about bringing a group for a week or weekend this year?
January 1st, 2018 will mark the start of our 38th year!!!  This Newsletter explains some of the history of Good Works
This talk was recently given in Little Rock Arkansas.  It is one of five different presentations Keith gave in late April 2017.  It begins with a film clip where Jesus speaks as recorded in Matthew 25:31-46.
Week of Service is a short term internship we offer to anyone, age 16 or older who would like to come to Good Works for a week and join us.  Know someone who might enjoy spending a week with us this year?  Encourage them to contact us for an application.
Click here to view a short video on the Good Works Timothy House Weekend Volunteer Opportunity.
If you are not already connected with us on Facebook, we want to encourage you to "friend us" and receive updates on Good Works each week.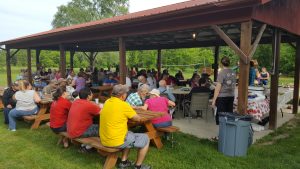 Friday Night Life takes place every Friday night from 4:30-7:30 pm. We rely upon groups to sponsor the meal and provide the food each week.  If you can organize a group of 7-14 people to provide food for 120-140 adults and children once a year, please contact us! We are looking for groups to sponsor one FNL meal in 2018. You?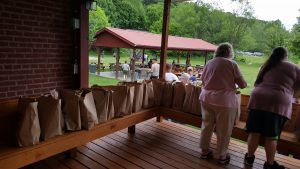 Every Friday Night, Good Works provides 35-45 individuals and families with "take home" food. People sign up during Friday Night Life and the food is provided at 7:30 pm each week.  Want to do a food drive for Good Works?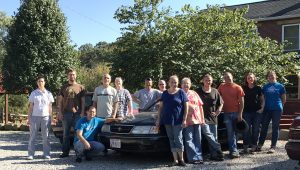 Good Works provided car #162 in late August 2017 to another participant in the Transformation Station!  As people donate cars to us, we are able to provide them to people who need them and who are willing to volunteer their time to serve others in the community.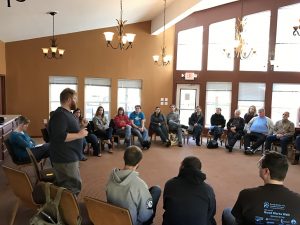 The community of Good Works facilitates experiences for about 1,100 volunteers each year. Last spring, we hosted another Community Development Affirmation Day and expressed our gratitude for the volunteers who serve with us. Participants in The Timothy House, Friday Night Life, Neighbors Helping Neighbors, Kids Club, and Good Works Gardens attended. Our next Community Development Day is planned for Saturday morning, February 3, 2018. 
THE 16TH ANNUAL GOOD WORKS WALK is scheduled for Saturday, February 24th, 2018.  About 400 adults and children participated in five educational and inspirational WALK experiences in 2017.   We feel so thankful for all the encouragement and support we received.  Our financial goal for 2017 was to raise $60,000 to provide about 1/3 of the total costs to operate The Timothy House.  The 2017 WALK raised about $40,000. We are grateful!
2016 NEWS  …
We found these five recent audio presentations on poverty in America to be very helpful in terms of increasing our understanding and perspective on the very complex issues involved with being poor in this country.
This hour-long talk by Keith Wasserman was recorded on Sunday, September 18th. This is the story of Good Works and some of the basic foundational principals of the ministry God has trusted us with.
Andrea Horsch and Keith Wasserman have written an essay entitled

 Good Works Timothy House Beyond the Numbers 

(released February 2016).  This essay offers perspective and analysis on some of the numbers we have been compiling for the past 9 years.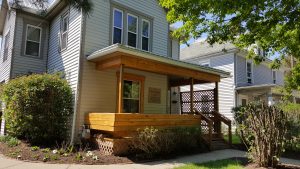 LISTEN to a short audio story about the Good Works Timothy House!
2015 NEWS  …
On Sunday, October 25th, Good Works held a public presentation/conversation with the people of Athens County to talk about the way in which we provide shelter, changes we have instituted, and our desire to continue to be a good neighbor as we operate the only home for people without homes in 8 rural Southeast Ohio Counties.  The event took place at Central Avenue UM Church (westside) and was followed by an Open House at the Timothy House.
Check out this video about the summer at Good Works produced by Priscilla Thomas.
Ohio Today, a publication of Ohio University for alumni, published a two page article entitled  

Embodying The Humanitarian Spirit

about the work of Good Works and Keith Wasserman. You can find it on page 37.
This talk "Community Is The Means By Which We Carry Out Mission" was given by Keith Wasserman last spring at River of Life Community Church in Hudson, Ohio.

2014 NEWS  … 
Keith and Darlene Wasserman are opening their home to men, women and children the Timothy House can not assist based on space limitations. They provided 143 nights of shelter at their home last year.  This initiative, called Sign of HOPE started in February 2013. Each night the Wasserman's go to the Timothy House and walk over to their home with the residents they are assisting.  Sign of HOPE has two bedrooms and can assist up to five people at one time.  The city of Athens does not have any laws regarding how many guests a home owner can have in their home or how long they can stay. 
Thanks to our friends from Grove City United Methodist Church, The Good Works property has a N E W greenhouse. 
Twelve minutes with Keith Wasserman. This 12 minute video was recorded in August as Keith provided an overview of Good Works to conference in Chicago.
Click here to see a new downloadable PDF entitled GOOD WORKS BY THE NUMBERS.
This 25 minute interview with Keith with Gospel Neighboring took place in mid March.
This  45 minute presentation on the biblical vision of Good Works with given by Keith to the Church of the Messiah in Xenia.
2014 marked the 20th year of the Good Works Luhrig Road property.  This property was purchased in 1994 and ushered in the beginning of the 'debt free' era.
2014 marked the 30th anniversary of the Timothy House which was purchased in 1984.  Since 1984, Good Works has provided  more than 110,000 nights of shelter at The Timothy House.
2013 NEWS  … 
The community of FRIDAY NIGHT LIFE celebrated our 20th anniversary in May.  This monumental event was attended by a LOT of people even though it was raining and we lost power for the whole evening.  We began FNL in the spring of 1993 and held the event at Central Avenue United Methodist Church for about eight years before moving to The Plains United Methodist Church. Today, FNL is held on the Good Works property for six months and at the Plains UMC for six months. We are always seeking groups to sponsor one meal each year.
Our new trail dedication took place in October on the Good Works property. In addition to the beautiful hiking experiences enjoyed by adults and children of all ages, the event honored John Knouse who donated more than 500 hours of his time overseeing hundreds of volunteers during the past few years. 
In January, Keith and Darlene Wasserman started a new initiative in their home to directly assist people experiencing homelessness in southeast Ohio who are being turned away from The Timothy House due to lack of space.  Their initiative is called SIGN OF HOPE.
The United Methodist Church conducted a series of interviews with our staff which resulted in this on-line article. 
INFO
Through our initiative in agriculture, Good Works launched 19 gardens in Athens County in 2015.  Two gardens are located on the Good Works properties, one is located in The Plains at Three Rivers apartments.  The other gardens have been planted at the homes of friends we have met through Neighbors Helping Neighbors. Under the leadership of Doug Schmaltz and with the help of many local volunteers, Good Works is committed to growing our agricultural initiatives in 2016.
Please visit the Good Gifts store this year! Our motto "Buy a gift, Change the World" was developed because each gift you buy helps people from developing countries (the two-thirds world) earn a living wage.  Good Gifts is located on the Good Works Luhrig Road property and is open most days (M-F) from 10:00 am – 5:00 pm. Good Gifts is a Ten Thousand Village Store.
Keith speaks about 50-80 times a year around the US on many topics related to the ministry God has trusted us with.  This talk was given at Asbury Theological Seminary's Kingdom Conference:
You can save this sermon and listen to it later.  Just right-click the media player and select "save as" to save the file to your computer.
We have developed a seminar entitled "The Gospel to the Poor — A Practical Biblical Theology."  For the handouts for this seminar, click here.
Matt and Beverly Hale have written a unique bible study on Righteousness and Justice.  This study was originally developed as a workshop for University Students associated with the Navigators and has been adapted for Good Works.  It is available here:  A_study_in_Justice_and_Righteousness.  Matt and Beverly were on the Good Works staff for several years working with Friday Night Life and our Life on Life mentoring program.  They currently live and labor in ministry in inner-city Detroit, Michigan.
Would it surprise you to learn that Good Works has struggled to find funding for the ministry God has entrusted to us with here in SE Ohio?  Take a look at these statistics and you may be surprised to learn what we have discovered.  If you know of a foundation which funds the kind of projects we are committed to, please email us or contact 740.594.3339.  To read about the Reality of Fundraising in SE Ohio, click here.