Hannah House Internship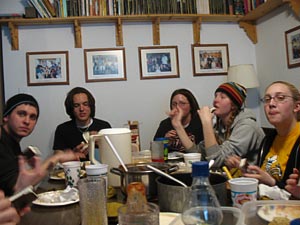 The Hannah House Internship is what makes the Life in Transition Program possible—a ministry of hospitality to single men and women who are in recovery from life controlling problems. The Life in Transition program operates on the premise that transformation can take place in the life of an individual through community. People do not change isolated from community. They change in the context of and for the sake of community. The house managers, interns and guests at the Hannah House make up the community who live together, sharing their lives with one another and with the resident in the challenging process of change. This "live with" internship model is one way we seek to fulfill the great commission.
The Hannah House facility has two floors, the second of which is dedicated to the live-in community of the hostess, interns and the participants in the Life in Transition Program. There are six bedrooms, two full bathrooms, a living room and a small apartment for the Good Works' Staff person who oversees Community Life. While living in the house, you will have room with a bunk bed, dressers and closet space. (There is limited storage space available for personal items.) The first floor contains a living room, kitchen, food pantry, dining room, a large bathroom, laundry room, two dorm rooms and two offices. Throughout the year we host short-term mission teams (we call them worship teams) on weekends and for full weeks during the summer who will make use of the first floor. However, we maintain the second floor as private for people who live in the house.
Those who participate in this part-time internship commit to live in the Hannah House community for a period of six months up to one year. The responsibilities you have and the issues you will confront will be the catalyst for discipleship in your journey with Jesus. Responsibilities include regular presence and participation at meals, shift coverage in the house, chores, and participation in the weekly house meeting and house events. You will also be involved with welcoming many of the guests who come to visit us, helping them out as needed. Together we will form a community of hope, working through the issues of building healthy relationships, balancing daily responsibilities, conflict resolution, and issues of respect and stewardship. Training will focus on helping the intern properly interpret and define the root issues that we all face as recovering sinners as well as the unique situations common to the poor and oppressed who are the recovering homeless.
Each intern will be under the supervision of one of the full-time Good Works staff. Often this is the person who oversees Community Life. This person will support you as you process the events of your internship . Supervision will involve weekly meetings, training sessions, special readings, and periodic retreats. Emphasis will be placed on three key areas: (1) helping each intern discern the unique gifts and passions that God has given them, (2) helping the intern experiment through service to others with those very passions and gifts, (3) the character development in the life of the intern.
One of the most significant roles the intern will play will be as a mentor in the life of the residents in the house. You may be sharing a room with a single man or woman who is recovering from some life-controlling situation and will function as a role model for that individual. Even if you do not share a room with a resident, you will still be a vital part of making the community a living and vibrant one. You will still function as a support mentor to a resident sharing a room with another intern.
In the past, residents who have lived in the house have come from a variety of situations. Often they come from the Timothy House, our shelter for the rural homeless. However, they have also come from incarceration and other treatment centers. Each person who applies for the Life in Transition program goes through an extensive two-part screening and application process, which is both written and verbal. After the written application is completed, we meet with the individual for a discussion on what they have written. The applicant who completes the process successfully has shown him/herself to be willing to work through the difficult process of change and to live within the structure of the house.
Hospitality is the experience of welcoming another into your life and will be a significant part of the intern's experience. Not only are you involved in the life of the resident, you will also be hosting guests who stay in the house and the many people who come to visit. A large number of these are volunteers who come to Good Works to help us with the maintenance of our property and to serve in the community through our Kids Club or Neighbors Helping Neighbors.
What is written above are the standard aspects of an internship at Hannah House. But we recognize that each individual coming to serve with us brings with them unique gifts that can be expressed and have the opportunity to develop in the context of community. Therefore, your internship will include some other contribution that you can make to the Good Works community but from which you will also find personal growth. This will be your focus area and could include participation in the Timothy House, or assisting with Work Group supervision, or possibly some aspect of the Friday Night Life ministry. These are only possibilities and there may be another area of interest that you wish to explore.
A former intern had this to say about her experience of living at Hannah House:
Community at Hannah House was a great experience for me. I already had some idea of what it would be about (living in dorms for three years will teach you…) but I definitely learned more. I learned that community is intentional. Just living together does not guarantee community, especially since our schedules were so different. At times I had to give up sleep, or time by myself to help create community. Each time I did, I was blessed by the conversation or experience. I am grateful for those times. I also learned that community grows when you go outside of the place you live. The demolition derby, going to Big Chimney, Wal-Mart runs, Donkey Coffee, and so many other random trips became places where community grew even more. Those are going to be the times that I remember the most. Community also means keeping your eyes open. It was important that we saw the burdens and struggles of fellow housemates in order to offer words of encouragement, relieve them of duties, or pray for them. Towards the end of the summer, I realized how important prayer is in developing community. Praying for each other brought us closer together and offered a forum for sharing what was going on in our lives. I learned even more than this about community, but instead of writing it out, I am going to live it out as I go back to school and back to the dorm setting. I am grateful for what I learned about community while living at Hannah House.

—Mary Lyle, former intern
Hannah House Interns pay a program fee of $200 per month to participate in the Good Works' Hannah House community. This helps to pay for housing, utilities and food. You are encouraged to work or go to school part time (less than 20 hours per week) as a part of your experience, however this should be limited so as to not compromise your involvement in the Good Works' Hannah House community. If you have any questions regarding this internship, contact Andrea Horsch at (740) 594-3339 or through email at email@good-works.net.