Jesse Work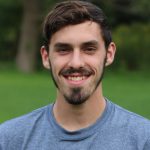 My name is Jesse Work and I am doing the Hannah House Internship with Good Works. This internship is a part time, "live in" internship, enabling me to attend Hocking College while I serve here. I am working towards an Associates Degree in Forest Management.
I had my heart set on going to school for Forestry and Hocking College was recommended to me by several people. But living in dorms at a public college has never been high on my list of things to try. The combination of that and wanting to get invested in a new Christian community when I came down here led me to Good Works.
Good Works has been a really eye opening experience for me in many ways. God has been very quickly tearing down stereotypes and misconceptions, even some I didn't know I had. It has been amazing to see how a group of Christians with a variety of backgrounds, from many different places, have all come together in this ministry to serve the Lord in such a unified and beautiful way.
I realize that the sentiments I am about to share might sound cliche, people say things like, "I went expecting for God to work through me but I found that I myself was changed."  While I am finding this to be true, there is something that is becoming more apparent to me as I serve with Good Works. Psalms 119:37 says "Turn my eyes from looking at worthless things; and give me life in your ways." Without God in my life I am a man who incessantly looks at and is consumed by the worthless things in this life. What God has been so graciously showing me through my time at Good Works is that He will give us life (i.e. Himself!) when we walk in His ways.  I am thankful that I will never reach the end of learning about my fathomless Savior and what it truly means to walk in His ways.
When not working on homework or serving at Good Works you will most likely find me enjoying a good book, taking a hike in God's beautiful creation, playing soccer/basketball or hanging out with friends (maybe doing one of the aforementioned things!)
I am thankful for Jesus leading me to this place and am thankful to serve here for however long He has called me.