Summer Kids' Discovery Club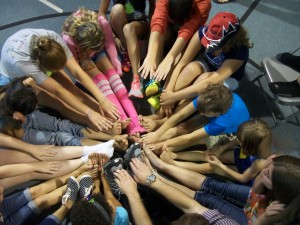 We are celebrating 10 years this summer!
The 2017 Summer Kids' Discovery Club, and Summer Lunch, will take place from June 19th to August 4th.
Since 2008, this partnership between Good Works, The Plains United Methodist Church, and countless individuals, families and businesses has provided a summer packed full of character-building fun, learning, and action…topped off with healthy and delicious food to boot! We meet each day for Summer Kids' Discovery Club at The Plains United Methodist Church (on the corner of Johnson Road and 682) on The Plains.
Under the leadership of Good Works' staff, interns and volunteers, the Summer Kids' Discovery Club seeks to provide a safe, cost-free and meaningful summer experience for kids from all backgrounds between the ages of 5 and 12. Through one-time presentations on a variety of topics such as animals, our environment, healthy dental practices, different cultures, insects, farming, and more, community members can share something new with (and sometimes, learn from!) the kids who participate in the summer with us. Local businesses and parks also welcome us for walking field trips throughout the summer; we have visited The Plains Community Park, the Post Office, the Athens High School soccer fields and more!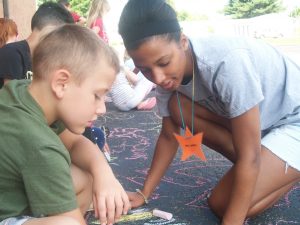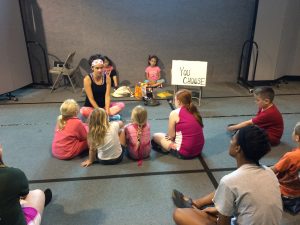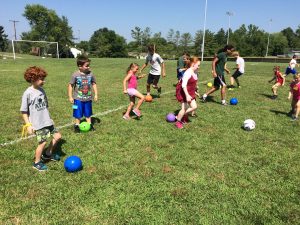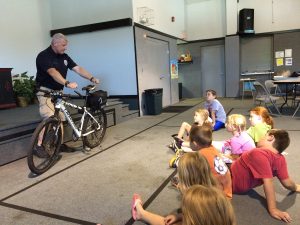 At noon every day, the doors open to the community to join us for Summer Lunch in the Family Life Center of The Plains UMC.  In addition to one-time presenters for Discovery Club, we are seeking people who are willing to serve as weekly volunteers with us. Weekly volunteers can serve with the Discovery Club to assist with oversight of the children, help out with activities and be an encouraging presence by making a commitment to come 1-2 times a week AND/OR assist in the preparation of lunch for about 50+ children and adults.
Are you a member of a Work Retreat group coming to serve with Good Works this summer and hope to be involved with Discovery Club? To learn more about your role with us at Discovery Club click here.
For more information on how to plug in, contact Emily Axe at 740-594-3339 or through email at email@good-works.net.
Click here to view the 2017 Summer KDC flyer. 
The registration form for KDC will be available May 2018
| | | |
| --- | --- | --- |
| | | Daily Kids' Discovery Club Schedule |
| 9:00 AM | | Arrival and Check-In of KDC participants at The Plains UMC |
| 9:30 AM | | Daily activities begin (Children may be divided into several groups depending on the days activities and presentations) |
| 11:10 AM | | Faith Time begins (Children are separated into two separate age groups) |
| 11:45 AM | | Discovery Club transitions into Community Lunch (Discovery Club is sectioned into its own lunch area) |
| 12:00 PM | | The Community Lunch begins, followed by unstructured free time |
| 1:00 PM | | Discovery Club ends and children should be picked up! |