Luhrig Road

The facilities located on the Good Works property:
The Administration Building is the primary connecting point to Good Works for the public. You can reach the staff by calling 740.594.3339. Keith Wasserman works from this facility and can be reached at 740.541.0816
The Transformation Station is a facility on the property as well as a program that gives people an opportunity to volunteer and to receive "Thank you" gifts in return.
The Hannah House is home to Life in Transition. It also has two offices and several staff that work from here. You can reach them at 740.594.3336.
The Hope Center is intended to provide a large gathering space for the many groups who visit Good Works. There are also several staff who work from this facility. You can reach them by calling 740.594.3339.
The Carter Cabin is located in a remote section of the property for people who want some time for prayer, meditation and reflection, and Bible reading. You can reserve the Carter Cabin by calling 740.594.3336.
Our Recreational Facilities which include a picnic shelter, amphitheater, a small Basketball court, a volleyball court, and a playground are located here and are used for many Good Works events, but are also available for rental.
The Amphitheater is a facility that seeks to make the performing arts accessible to people struggling with poverty.
The ministries that operate from this property:
The Small Businesses that operate from this property: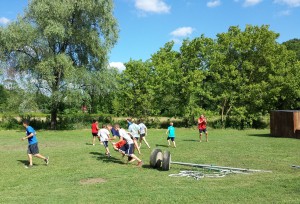 These small businesses operate with the goal of creating income for Good Works which helps us cover some of our utility costs.
The internships that are focused on this property: