Aaron Smith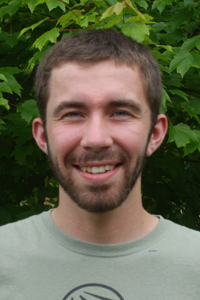 My name is Aaron Smith. I grew up on a farm outside Newark, Ohio, between two small towns that only occasionally appear on maps. In high school I considered going into formal ministry and church leadership. After attending a week-long summer camp for boys considering ministry, I decided that if there was a time for me to enter formal ministry, it was a time yet to come. I aimed instead to become a teacher and to be a positive influence for my students.
I came to Athens to earn my bachelor's degree in language arts education at Ohio University. While at OU, I was involved with a student ministry called Reach Out on Campus (ROC). I became a small group leader and led a Bible study for three years. That was the first time I felt the true joy of Christian community. Surrounded by trusted friends and enjoying the fresh independence of adulthood, I was able to be more authentic and to connect more meaningfully with my Christian brothers and sisters than I ever had before.
I was connected with Good Works through ROC, and in an effort to do something purposeful with the summer before my final year at OU, I joined Good Works for a summer service internship.
The experience was transformational.
Living in an intentional Christian community, I saw what the Kingdom of God should look like on earth. I experienced community on a whole new level. We didn't just talk about our faith – we lived it. Love was a verb. Trust in God was a necessity. In some ways, it was as if I had been reading the rulebook all my life, thinking I knew how to play the game. During that summer, I finally found myself on the playing field in the middle of the action. There are things people only really learn by doing, and I think that much of Christ's teaching falls under that category. Sure, we can repeat his words, but only when we go and follow his instructions do we begin to resonate with what he has taught us.
I learned much during my first summer with Good Works. When I had the chance to participate in another summer internship after I graduated, I took it, and when an opportunity arose to join the staff, of course I pursued that as well.
I now serve as the Hannah House Manager here at Good Works. I enjoy the ministry of hospitality that we have in the Hannah House, of inviting people in to experience the same intentional community that fueled my own growth as a Christian. I appreciate the opportunities we have to share our faith, not with empty words, but with full hearts and eager hands. It is my hope that all who cross paths and take part in this Community of Hope are renewed and revitalized by the way we live and work together as Christians.
---
Aaron wrote a story for the 2014 Good Works WALK. He read it as part of the "I am Hungry; Will You Help Me?" walk experience, which focused on food-related issues for people in poverty. While it is fictional, it is based on true living situations of families struggling with poverty in rural Appalachia. The story is titled "You Are What You Eat," and you can read it here.