Andrew Bissell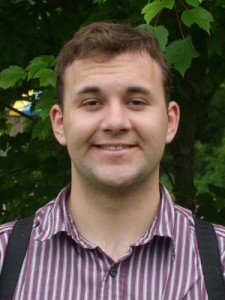 I came to Good Works through the Ohio University student organization Service Living. Here, I encountered the "ethic of inefficiency" that surrounds the idea of becoming friends with people through service. Although I participated in transformation groups geared toward agriculture and home maintenance, I first felt the heartbeat of the Good Works mission pulse through Friday Night Life, where people of myriad different backgrounds wound round together in creating a community full of the vibrancy of life, relationships, and food.
I became a volunteer with Training for Life vis-à-vis the Timothy House, as well as a regular weeknight volunteer, where I have found many lasting friendships, with fellow volunteers, staff members, and residents alike. I thoroughly appreciate and enjoy the people and atmosphere of the Timothy House.
After I graduated from OU, I became an Appalachian Immersion Intern for a yearlong experience, living at with the Hannah House community and becoming intricately involved in many of Good Works' initiatives. I have since found a place as Support Staff at Good Works, plying myself still throughout much of community. Currently, I am an on-the-ground facilitator for the weekly Friday Night Life community meal, and I work intimately with the business sponsorship side of the annual Good Works Walk. I also partner in leadership of the Neighbors Helping Neighbors initiative with fellow staff member, Buddy.
Soli Deo Gloria.