Chris Linscott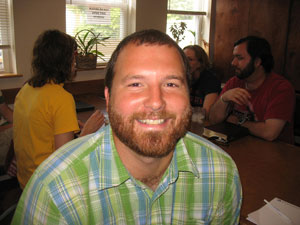 CHRIS says, "I came to Good Works through an overwhelming desire to serve. Faith allowed me to leave an unfulfilling time in corporate America, and to re-connect with my deep Appalachian roots. Thus my beloved wife Jamie and I, along with our beautiful daughter Herron, packed our things and headed to the hills. While building our log cabin, it became increasingly clear that more was required of me than merely enjoying the beautiful land and countless relatives that this region offers us. I prayed that the way would be made clear, and this prayer was answered in the form of Good Works.
"I spent my first year at Good Works serving my neighbors struggling with poverty in Appalachia as an Americorps VISTA. It was through this service that I glimpsed what it means to truly live a Christian life, and began to realize how to make every moment an act of constant prayer. My desire to serve grows not only from an understanding of the desperate situation of so many of my neighbors, but also from my intense desire to fulfill the Greatest Commandment. Matthew 22:37-39 reads, "Jesus replied, 'Love the Lord your God with all your heart and with all your mind and with all your soul.' This is the first and greatest commandment. And the second is like it: 'Love your neighbor as yourself.'" (NIV)
"As a caregiver at the Good Works Timothy House, our shelter for the rural homeless, I was granted the unique and wonderful opportunity to serve the most forgotten and marginalized members of our society. While at times this work was difficult, I have complete faith that there is nothing else that God would have had me do. The compassion and generosity that people without homes showed not only to one another, but also to me, was both humbling and inspirational.
"My next several years with Good Works will be spent in pursuit of similar aims. I am currently working to develop ways to allow our community to better serve our neighbors struggling with poverty. It is also my sincere desire to create ways to bring people from all walks of life together in service, thereby furthering the development of the Kingdom of God. My lifelong pursuit of the perfect love and peace brought by Jesus requires creative thinking centered around ethical ways of being that enhance the love and peace we receive from one another. In community, we are able to do far more than we ever could ourselves. This is why I am here."