Emily Axe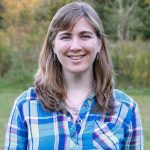 Hi! My name is Emily and I came to Good Works in the spring of 2006 with a group of students from Wright State University's branch of Chi Alpha (a student ministry on campus). We came for a week to serve the Athens community and I went back to Dayton with a new vision of how service and worship go hand in hand. We were a worship team, worshipping through paint and lawnmowers, hammers and drills. It was during this week that I learned about the Good Works Summer Service Internship opportunity and prayed that there could be more for me in the hills of Appalachia.
I came back to serve as a Summer Intern in 2006 and had the opportunity to meet and be with people who will forever impact my life. This internship taught me how to meet people where they are and how important it is to listen to the needs of others, sometimes setting our own agendas aside. I went back to Wright State after this summer a different person, not comfortable in my everyday routine.
I finished my degree in Middle Childhood Education and was exploring options for the next chapter in my life. I thought God was finished with me at Good Works but I kept getting thoughts of Athens and was curious about this ever-growing community of hope. I joined AmeriCorps*VISTA with the hopes that this could be my ticket out of Ohio, a place where I was born and raised. A day before graduation I felt God calling me back to this rural community and I am thankful I had the sense to listen.
I served for two years through AmeriCorps*VISTA and am grateful for the relationships I was entrusted to through the Timothy House and Friday Night Life community. I am now going into my tenth year as a full-time staff member with Good Works. Some of my responsibilities include directing our Summer Kids' Discovery Club, helping to facilitate Friday Night Life, updating the Good Works Facebook page, promoting the annual Good Works Walk, and updating the monthly Needs List.
A big change coming in the next year is marriage. I am currently engaged to staff member Jimmy Blackwell and we plan to get married this December. I also enjoy mentoring teen girls, hanging out at the movies and drinking lots of coffee! Recently, I have discovered the loving work of Mr. Fred Rogers as an inspiration for my life and would like to leave you with one of my favorite Mr. Rogers quotes:
"As human beings, our job in life is to help people realize how rare and valuable each one of us really is, that each of us has something that no one else has–or ever will have–something inside that is unique to all time. It's our job to encourage each other to discover that uniqueness and to provide ways of developing its expression."
Emily's article "What Does It Mean to be the Body of Christ in the World, for the World, for the Glory of God?" Part I Part II Part III