Heath Curry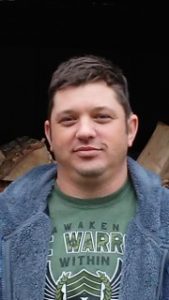 I first came to Good Works as a Transformation Station volunteer. I had just completed college with a focus in network systems. I was in a situation where walking, biking, and skateboarding was no longer feasible. I needed a vehicle, especially for this region. To put my degree to work I needed a dependable ride. After a bit of waiting, I was finally called up. I went, brought friends, and got my Durango, which I presently drive.
Five years later, I had started my own business in PC repair and as a Field Network Specialist. It was not without challenges, especially for someone who could not hear well on the phone. I ended up helping a friend start his construction business. With prior experience as a mason and metal framing, building houses was something that I was no stranger to.
During that time, I spent time at church and at a conference called "DMG" (Deaf Men's Gathering), I was beginning to feel the gravitational pull towards Christ more than ever before. The conference was great but what really moved me was the guy who signed all those worship songs. If the Holy Spirit could be seen physically, that was it. Feeling inspired and moved by my church community, I was feeling a desire, a longing to do more.
And so, while driving one day, my vision came to me as: living in the Hannah House and being involved in the day to day work in the various programs Good Works offers. This vision was like a little piece of heaven; it looked like some rest, healing, restoration of my spirit and worshiping with everything I do. The more I thought about it, the more it made sense to me. My life having a driven purpose, meditating day and night, also to share the talents I have. I began to wonder if this vision was Jesus himself, and his way of nudging me back on the path he wanted me on… I accepted, and began to obey.
One day at the end of the week, while, driving back I had one of those intense meditating drives. It was a silent drive to where I normally stay during weekends for Saturday and Sunday volunteering and worship. When I arrived, I saw my laptop sitting there. I sat down and acted on my deepest desire. I emailed Paul Richard and asked for a potential opportunity for employment. In Just less than a week he informed me about Appalachian Immersion Internship (AI). After reading up on this opportunity, the vision was much clearer that this was my calling.
When I am not working, or meditating, I enjoy hiking, camping, disc golfing, scenic drives, writing poetry, conversing in ASL (American Sign Language), and farm to table cooking! Food is culture and I like to travel the globe in my kitchen trying my hand at various cuisines. Furthermore, I enjoy sharing these meals when opportunity presents itself.