Jeremy Hatfield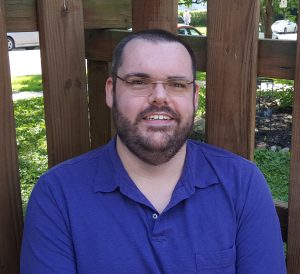 I grew up in Pike County in Eastern Kentucky, in a community called
Ransom but better known as Blackberry Creek.  I attended Asbury College, 
now Asbury University, in Wilmore, Kentucky, and in 2004 I came to Ohio
University to study history in graduate school.  I have lived in Ohio 
ever since.  My wife Sally and I met through Reach Out on Campus's
graduate student and young professionals ministry and were married in 
2014.  Now, several years after meeting through that ministry, we lead
and host it at our home.  We also lead worship at The Plains-Athens
Community Church of the Nazarene.
I have been friends with many people from Good Works during my time in
Ohio.  I first met Keith Wasserman in 2006 as part of the planning for
Veritas Forum at Ohio University.  When I heard about an opening for 
night shift at the Timothy House, I immediately recognized it as an 
opportunity to serve others and grow closer to God.  I decided to pursue 
the job and in the process grew in my appreciation for the many ways 
that Good Works serves the people of the Athens area, in particular in 
the ways that Good Works prioritizes the creation of community. Now, as 
a night shift worker, I get to be a part of the Timothy House community 
not just as a servant to the residents of the house but also as a fellow 
traveler along the way.  I get to meet people and hear their stories.  I 
am learning, in the process, what it means to live in the reality of the 
Kingdom of God in the events of day to day life.