Keith's Sabbatical Journal — August 20
August 20
ENTABINI
We spent the day with the Entabini Community Church where we met Pastor Albert Chetty and his family last Sunday. These Saints provide a hot and nutritious meal to the children who live in the settlements their church every Wednesday. We had viewed several of the illegal settlements on Sunday during our first visit to the Entabini Church. These children come from very poor families and have so little. The houses are made of mud, pieces of wood and bricks which they find in the neighborhood. Most of these children's parents are unemployed and live on next to nothing. At the Entabini community, they are provided with a hot meal and with clothing. Pastor Chetty felt that this was the best meal they were going to receive all week. He told me it costs about 100 Rand or about $15.00 to feel the children each Wednesday.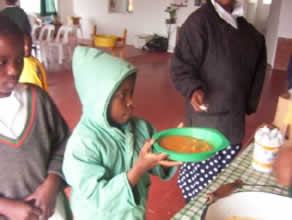 I was grateful for the opportunity that Darlene, Timothy and I had to interact with the children and serve together with the women of the church. We arrived at the church facility right around 11:00 am being dropped off by Ron on what was unquestionably the coldest day we have experienced since we arrived. We were immediately offered hot tea and a fried pastry of some kind by the women working in the kitchen. I took a few photos of the 5 women preparing the meal. They worked hard cutting vegetables, meat and preparing spices for the stew they were cooking. These women (a mix of Indian and Zulu Christians) spent from 10-11 am in intercessory prayer and then worked from 11-1 preparing the meal for the children. They usually prepared for about 100 people. Darlene and Tim worked in the kitchen helping to cut vegetables.
Soon after we arrived, Mrs. Chetty (Jaya) asked me if I would talk with a man named Precort who had been assigned by the courts to work for the church every other Wednesday. It just so happened that this was his first Wednesday. Precort and I sat down and had a long visit. He was a man of about 39 years of age who had just recently been released from Prison in Durban. He described the prison to me this way: He shared a room with 62 other men. The room was about 24 by 50. The men were awakened around 4:00 am and soon went for breakfast. They had to climb a ramp which went up six floors to the top of the Prison where food was served. After breakfast, they returned to their room until around 2:00 pm when they received their final meal of the day. There was a TV in the room but each man had to pay 95 Rand (about $14.00) per month to one of the inmates in order to watch it. Precort said there was a lot of violence in the prison. In his cell, there were blacks, Indians, Whites, Afrikaners and Chinese. He told me that there was a library in the Prison but he was never allowed to go there. Precort was a Hindu who was raised in a Hindu family. He has several sisters and an older brother who died about three years ago in an automobile accident. He explained his faith to me by describing how his parents sacrificed a goat to the gods for his release from Prison. Precort told me of his innocence of the crime he was charged with but never actually told me the crime. I got the impression that it was some kind of domestic violence. He has been assigned to Entabini for three years to work every other Wednesday. Pastor Chetty was very pleased that I had a chance to visit with him. I tried to explain the gospel to Precort as best I could while learning about his world view and his Hinduism at the same time. It was an enjoyable conversation. He allowed me to pray for him which I did asking God to help his 7 year old son who is mentally ill, his two daughters (ages 12 and 14) and his parents who are still living. He shared a few jokes and tricks with Timothy and I before he left about 1:00 pm.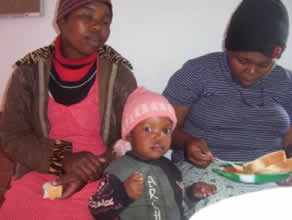 Soon after that, the children began to come in. The first few children were all girls of different ages. Pastor Chetty said their mother had died of HIV several months ago and they were all caring for themselves. The oldest child (about 16) had a baby of her own that was a newborn (only 1-2 months old) that she was nursing. Because it had just rained and was very cold, some of the children who were expected did not come. They had to come thru the mud of the forest (they were living in shacks in the forest) and would not make the trip because of the rain and mud. Soon lots of boys and girls came. These kids were mostly around 7-10 years of age. They were quite cold and so was I. Mrs. Chetty has been teaching the children several songs and they practiced the songs before we ate. It was clear that teaching songs was one of the ways that the gospel is being explained.
Soon Pastor Chetty (Albert) arrived and he asked to speak with me privately. He wanted to know what I might do if I had a facility like the one God has provided for him. I shared that I would try to create a living space for International volunteers and local volunteers to work with me as I carried out the vision God had given me. I talked a little about my own experience with what we call interns and shared how discipling these men and women was very important. I encouraged Albert that he had something to impart to these young people that they needed to receive. He seemed encouraged. He intends to convert the house behind the church into an orphanage for children with AIDS. He hopes to do this in the next year or so. I was surprised to see so many of these little children without parents, many of these kids living with HIV themselves.
Darlene came in while Pastor Chetty and I were visiting and asked if I could tell a story to the children. I thought I'd tell "The Boy and His Boat" story and told it to Pastor Chetty. He recognized the story and gave me a few clues to tell it in a way the children would better remember it. I went out to the children and told the story making faces to expand its impact. The children really connected with me and they all seemed to participate with me in the story. Later, Pastor Chetty asked them to explain the story back to him and it was obvious they were listening very carefully because they explained many of the details of the story very clearly.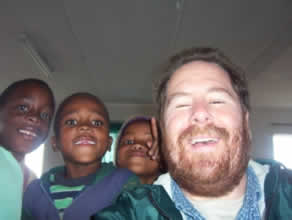 Soon the meal was served. Darlene assisted the women of Entabini with the food while Timothy passed out bread. I continued to take photos and the children were SO EXCITED to have their picture taken and MORE EXCITED to be able to see their picture right after I took it on the digital camera. Soon after lunch, the children were provided with clothing by the Pastor's wife and her helpers. I saw how important this clothing was to the children. I could see their smiles. The children had come in very 'under-dressed' for the cold weather. It was obvious that clothing was valued and appreciated. Soon, the children left to go to their homes and after some clean up and a time of special prayer, we left for a visit and tea with Pastor and Mrs. Chetty and their sons at the Pastor's house. What a great gift it was to be invited to be a participant in this amazing and special ministry. Thank you Lord!
We were picked up today by Pastor Albert Chetty's son around 1:00 pm for the 20 minute ride to the Entabini Church. When we arrived, the women of the church were resting from their food preparation work and were sitting outside. It was a beautiful day and because there was construction work going on inside the church building, the chairs were moved outside for the afternoon program. There were a few children arriving as we came. We also saw Precosh again – the man recently released from Prison who I had a chance to talk with two weeks ago. This time our visit was very short but he did tell us a candle joke before he left. If two candles of the same height or weight are lit at the time, which one will burn up faster? The answer is neither. Candles burn down, not up.
While the women were talking and Darlene was visiting with them, I went over and started to talk with the children. Only a few of the boys spoke English but that was okay because I again taught them how to wipe a smile off their faces and showed them the magic of the digital camera. They laughed and smiled. Several other children came and we seemed to 'warm up' to me and to each other. A few of the children were in their school uniform but several were in old clothes. I got the impression again that clothing was badly needed. Pastor Albert later told me that most of the clothing the children had on was given to them by the church. The rest of the children arrived and Pastor Chetty organized them to do several dances for us. They seemed to have some fun doing the dances. The last group of girls sang us a beautiful song of worship. It was so beautiful. Pastor Chetty invited Darlene to tell a story and she did a wonderful job explaining how surprised Zachaeus was that Jesus wanted to visit him at his home. Following Darlene's very enthusiastic telling of the story—I have photo's to prove it—one of the children prayed in Zulu and then got into a line for the soup and bread. Several of the children did not finish their bowls of soup and pulled out plastic bags and poured the soup and bread into them. I got the impression they were taking some food home to the family. After the meal several of the kids stayed after and visited with Timothy and I. We sat around talking about the meaning of our names, and I taught them a funny song about coming to America. One little girl really liked the song and began to sing it. I didn't get the impression they knew where America was. One boy asked how much it cost to fly here on an airplane. Before the few remaining children left, they asked me how old I was. I told them to tell me how old they thought I was. One little girl said sixty. 🙁 They kept shouting out numbers until one girl asked if they should go up or down. I said down and they finally counted to 45. After this they wanted to see the inside of my arms. They were surprised I was so white. Then, one little girl insisted on pulling up the legs of my pants to see my white legs. We all had a laugh!
Pastor Chetty and his wife Jaya took us to their home for tea and fellowship. We talked about leadership development, church planting and their vision. After tea we were given some ladyfingers—fresh little bananas right off the tree in their back yard. What a refreshing blessing that was! After a while Jaya brought out chicken sandwiches and more tea. We were blessed by their wonderful Indian hospitality again!
---
Pastor Albert and Jaya Chetty
Entabini Community Church
P.O. Box 352
Luxmi,
3207
South Africa
Home address:
Pastor Albert and Jaya Chetty
62 Woodpecker Road
Mountview
Pietermaritburg, KZN
3201
South Africa
PH: 033 387 6615
Cell: 073 1976 211
E-mail chettyy@nu.ac.za. In subject line write: "for Albert"
This is an excellent place to send clothing of all kinds for children, any time but especially as a Christmas gift to Jesus. The laws of South Africa require that the package be paid for on this end so please send some money (about $10-20.00) with a note inside the package with Pastor Chetty's name on it. It is okay to send US dollars. You can also arrange to have money put in the Church bank by wiring it to the branch and to the account number listed below.
Bank Contact information (if you can wire them some money)
NEDBANK OF SOUTH AFRICA
Branch Number 137 225
Account number 137 202 6347