Keith's Sabbatical Journal — July 26, 27, and 28
Friday, July 26, 2003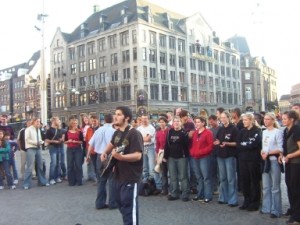 Greetings friends,
I thought I'd share a brief entry from my journal today. We are in Holland for 1 week visiting a ministry called FIRE HOLLAND which was birthed out of the Brownsville Revival in Pensacola Florida. Good morning Holland! Another good night's sleep. We are sleeping in bunk beds in Greg and Luke's room. Thank you Lord! I'd like to try and write about my experience in Amsterdam last night.
The group of 50-70 from the Fire School (the 3 week school Greg runs here) left from the camp where the school is held and drove to the down town section of Amsterdam. It took us about an hour+ to get there. I rode in a van with Dan (from Michigan) driving. Sitting next to Steve Alt, (the teacher from the Fire school) behind me were three young adults: Bart from Poland, Annericca from Holland and Judith from Germany. Dan dropped us off and Annericca led us from the van to the center of the city where there is a concrete sitting area (a park?) where people sit and where drug dealers do their business. Soon, the whole team arrived and Greg gave us some direction. We were going to begin with some preaching and then break up into groups of two and go through the crowd to witness. Burt (the morning teacher at the Fire school) did what I might call singing/preaching. He would preach a line or two with a melody "… Its time to wake up…."
Immediately following Burt's sentence was an interpretation from a guy from Holland. This went on for about 10-15 minutes and then we prayed and broke into groups of two. I introduced myself to Josh (from the Fire Holland group) and asked if he wanted to "go into all the world to preach the gospel? " He said he had never done this before so I encouraged him to follow my lead. The first person we went to was a catholic young man about 20-22 who spoke broken English. We asked him what he thought about the message and talked to us for a few minutes about what he believed. I asked him if we could pray for him and he said yes and the Lord gave me wisdom. The next guy we went to was very closed but respectful. We only had a few minutes with him and he did not want us to pray for him. So, I suggested to Josh that we simply stand up, move 1-2 feet away and pray for him right there. We did and God again gave me wisdom for how to pray for his hard heart. I really enjoyed being among this ministry. I feel like I haven't done this in a long time. It is refreshing!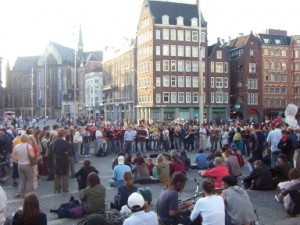 Josh and I had several more good encounters and each person let us pray for them. The last guy we talked to even asked us "what do I need to do to be saved". It is interesting what came out of my mouth (and heart) in answer to such a question. I firmly believe that God gave me wisdom and discernment to answer his question in a way that was appropriate to this man's life. I'm convinced that Jesus meets us in the 'going' and confirms his word with our faith in action. Like Jesus response to the rich young ruler, I felt like the Lord gave me a specific word for this man. Thank you Lord Jesus!
The group soon gathered back together for a 'circle-up' time for prayer. Then, Greg did some preaching. His style was a bit more traditional. Soon, we broke up again and went out in two's. I took lots of photos of the team speaking to the people in groups of two. After people had finished speaking in groups of twos in the audience, our team divided up into men and women. The women went to the Red-light district with roses to give to the prostitutes. The men went with Greg and we walked through the same area. Greg explained what was going on. There are hundreds of large (full body) picture windows and the women prostitutes stand in these windows dressed in bathing suits or in some cases (I'm told), not too dressed. The men go up to the windows and the women invited them to come inside, close the curtain and perform sexual acts. It is at this time that money is exchanged. This is now totally legal in this country. There are police everywhere making sure that the laws are protected. We walked the district, guarding our eyes and stopping to pray at various points. I saw shop after shop of live sex acts and other sexual activity. In between the sex shops were bars, restaurants and coffee shops. In some of the coffee shops, I believe those with the "C" and not the "K" on the outside, you can go in and buy marijuana or hash and smoke it there legally. We also saw a whole store which sold psychedelic mushrooms.
We ended the 'tour' at the Salvation Army where Frederick works. He is one of the men who has been working with Greg and Fire Holland. Frederick spends his days working with the men who want to come off drugs etc. and helps them make the transition OUT. We prayed for him right in front of the Salvation Army facility. Frederick shared that while he does get some good support from his boss and from a few of his coworkers for his radical message of preaching repentance, the 'higher-ups' in the SA have said that they don't want to pressure anyone to hear the gospel but to only speak to those who ASK to hear. Hmm… this sounds like another place I know. Frederick's response was, 'yea, about 1 in 1000 ASK to hear the message'.
Sunday July 27, 2003 & Monday July 28
I had a wonderful opportunity to speak to the Fire-School Students today in Holland on the subject DEVELOPING A PASSION FOR COMPASSION. These young men and women are very excited about their relationships with God and very zealous to see revival come to Poland, Germany, the Ukraine, and Holland. I shared my own passion that God loves that poor and that when we love the poor, we are loving and worshipping God. I really don't think they had heard of the concept that when we love, serve, sacrifice and give to the poor, they are being true worshippers, the kind the father seeks. I think most of these young people associate worship with a place, a time, with music and singing only.
We spend Saturday in Haarlem which is the city Corrie Ten-Boom lived in (who wrote the book THE HIDING PLACE) which is about 30 minutes outside of Amesterdam. We walked around the city, bought some fresh bread and cheese and I took lots of photos. We visited the Ten-Boom home (which is now a museum) and had a tour guide tell us the story of how the Ten-Boom family hid the Jews. The house is on the second floor of a Watch and Jewelry store formerly operated by the Ten-Boom family. We listened as the woman (who was a volunteer) talked about the Ten-Boom family, their Christian commitment and the four things they had in common: The loved God, the loved the Bible, the loved the Jews and they loved the jewelry business. We walked through the house and saw 'the hiding place' and listened as the woman showing us the home explained the risks and dangers the Ten-Boom family had to face in hiding the Jews and the ultimate consequence which resulted in the death of four of the family. The Nazi's never actually found the hiding place. They found a little hole in the floor which revealed that food rations were being brought into the house and it was for this that the Ten-Booms were arrested and sent to the concentration camp.
In the evening we went to the Fire Holland Camp-meeting along with about 50-70 young men and women most of whom were between the ages of 15-25. There were young Christians from Germany, Poland, Holland, the UK, the US and even Japan. The atmosphere was intense. The meeting began with intense prayer and worship and then Greg Montella spoke for some time about the temperature of a Christians being always red hot. The emphasis again was on hunger for God and hunger for God's power to move and hunger for revival in Europe. I couldn't help wondering whether there were hungry, zealous, excited Christians in Europe (Holland in particular) during the 1940s but who failed to see the relationship of their hunger for God and their justice for God. I wondered how these same saints would pass the test of hiding the Jews from the evil Nazi's. I just wondered if all this 'zeal' for Christ would transfer to sacrifice and service for the powerless and the voiceless and the persecuted people of their culture. I wondered how US Christians would do if they had to illegally hide a persecuted person or people? Would we (I) risk my safety? The safey of my children ? Would I risk losing my material posessions and my financial standard of living? Do I love God that much? Do I love my neighbor that much? Finally, I wondered what I would do if I were asked to hide people who were the victims of an evil government trying to exterminate them. Would I risk my life to save strangers?
I think our zeal for God must be translated in to love for people!
"I was a Jew and you hid me from the Nazi's". What you have done for the very least of these, you have done to me.

Love God and love your neighbor (Luke 10).

This is how we know what love is: Jesus Christ laid down his life for us. And we ought to lay down our lives for our brothers. If anyone has material possessions and sees his brother in need but has no pity on him, how can the love of God be in him? Dear children, let us not love with words or tongue but with actions and in truth. This then is how we know that we belong to the truth, and we have set our hearts at rest in his presence whenever our hearts condemn us. For God is greater than our hearts and he knows everything". I John 3:16-19

How do you love in truth? To love the truth is to love Jesus. To love Jesus is to love what is true. To love in truth is embrace suffering, persecution, discomfort, pain, and frustration etc. as worship for Christ. It is here we come to know not only the power of his resurrection but also the fellowship of his suffering (Philippians 3:10)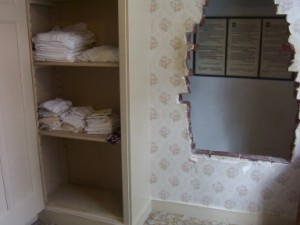 This photo is of the area inside the Ten-Boom home where the actual hiding place is. They later broke through the wall to show the location of the space which could hold five adults. In the left of the photo under the sheets there is a false wall near the floor that the Jews would crawl through to get into the Hiding Place. Only one could sit down while the other four stood and they took turns. During the end of the war when the Ten-Booms were arrested, there were five adults who were left in that area for 3-4 days without water or food. They had to be very quiet as they feared for their lives. These Jews were so vulnerable and so very dependent (in this case) on the kindness of Christians like the Ten-Booms. After the tour, several of the students asked me about how I liked the experience of visiting the Ten-Boom home and learning about their ministry to the Jews. I didn't think I could really say what I was thinking so I simply said it was interesting. But I was thinking this: I wondered whether I would have been in the resistance myself. What kind of "Christian" would I have been, the kind who went along with the Nazi's for fear and self preservation or the kind that would have risked my life to save the most vulnerable, weak and helpless people of their day. Some say we can not know the answer to this question until we are thrust into the circumstances themselves. I say that we prepare now and every day for THAT DAY by the very way we love and treat the poor, rejected, unlovable, unproductive and whether or not we fight for their rights (even when it hurts) or whether we allow the power of the powerful to determine everything. If we speak for the voiceless now, we will also do it THEN. If we do not speak for the voiceless and powerless now, we will not do it later when they need us the most. I wonder sometimes whether I live a kind of costless faith or a faith in God by which I live by real convictions that, when fully lived out, may even cost me my life.
In my reading of the book Rich Christians in an Age of Hunger by Ron Sider, I am finding some amazing statistics:
Compassion International (an international relief organization) reports that more than 40 thousand children die every day in the world as a result of preventable sickness they get from water related diseases. It costs about 3 Billion dollars a year to save an estimated 5 million of these lives by creating a way to bring clean drinking water into many communities where these children are dying. In the USA alone, consumers spend an estimated 40 billion dollars a year on 'diets and related expenditures to reduce their caloric intake'. Throughout the world, the rich spend more than 40 billion dollars on golf. This seems like such a great injustice.
Poverty means illiteracy, inadequate health care, disease (preventable) and brain damage.
As of 1990, more than 940 million people world-wide could not read. How do you bring the gospel to a people who can not read?
How do you explain the gospel to people who can not read? I think this is a question that the body of Christ world-wide must grapple with. We need to examine this first because so much of our presentation of the gospel is based on the assumption that people can read. Today in the world, nearly 940 million people can not read. How can we explain the gospel to them? MUST we speak their language? Even if we could speak their language, how much of their language would we have to work with to explain the gospel? Also, can the gospel be explained with words alone? I suspect that God's intention is to "display" the gospel through the transformed kingdom relationships in His church–the living stones who are 'being built ' into a spiritual house. I believe God wants those who can not read to 'read' the love and life-flow coming from the community of believers simply being themselves. I am not speaking here of how unbelievers who haven't heard of Jesus watching our meetings. I think that our community (life style which includes everything, not just our 'religious' gathering) must be displayed so that the people can read the gospel. Maybe we need to invite unbelievers into our community life together (not just meetings) so that they can 'see the gospel' in action. Maybe this is what Jesus meant when he said that the world will know that the Father has sent him by the unity and love of the Christians displayed inwardly and outwardly: "My prayer is not for them alone. I pray also for those who will believe in me through their message that all of them may be one, Father, just as you are in me and I am in you. May they also be in us so that the world may believe that you have sent me." (John 17:20-21). I suspect that this is God's preferred method–to display the gospel through his people so that world can both hear and see the power of the gospel in action.