Keith's Sabbatical Journal — September 26
September 26 (Keith and Darlene's 22nd Anniversary)
Greetings dear friends from Galati, Romania where the bread is always fresh, the people are warm hearted and the culture is Romanian Orthodox. We arrived here from South Africa after 34 hours of traveling almost two weeks ago. We are living with a young missionary couple named Joel and Monica Klepac and their 8 month old son. We met them earlier this year in Wilmore Kentucky while at Asbury Seminary. Joel and Monica are a part of a wonderful ministry called WORD MADE FLESH (www.wordmadeflesh.com) a unique organization with a very incarnational vision. WMF which began about ten years ago now has ministries in Nepal, India, Bolivia, Peru, Sierra Leone, Thailand, and Romania. We have had the joy of meeting many of the Romanian staff as well as the boys and girls they are laying down their lives to love.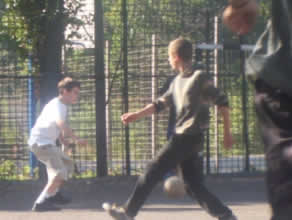 The primary group WMF is reaching out to are children many of whom live on the streets of Galati (the 4th largest city of the country) every day. WMF operates a Drop in Center where the children come each day for food, showers, art education, bible study, help with their homework and most of all a warm and loving community of godly men and women who truly love them. They have a garden, a chapel and they are currently building a workshop for wood working. The boys and girls come from very unstable families where in addition to serious poverty, there is often a great deal of neglect and abuse. WMF also has a very intentional outreach to the street boys through football (soccer) which occurs several times each week. Tim has been participating with the boys. It's a bit 'rough' but he seems to be doing well.
FRIDAY: A DAY IN THE LIFE OF ROMANIA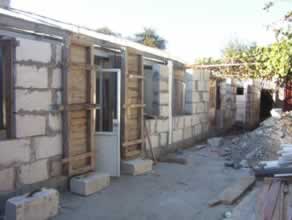 I didn't sleep well because I have a very sore throat. I had some tea with Joel and Monica this morning and that helped. The home where we are staying basically has eight rooms in a row. You must go through each room to get to the next room. They are building an outside hallway but this will not be finished for some time. Almost every day there are workers who come with hammers, drills and lots of noise to get us moving in the morning. They don't yet have hot water so we must boil water to mix with the cold water to bathe and wash our clothing by hand. They finally got a larger refrigerator to store food but we still shop almost every day for food. The markets here are all broken up into individual stores. I've have yet to see anything very large. In each neighborhood, there are very tiny stores which sell bread, canned goods and supplies.
We went to the Drop in Center around noon and arrived to have some wonderful Romanian food: stuffed peppers with a side of sour cream. It was good. We take a "tram" to the drop in center and then walk about a mile from the tram. We are all doing a lot more walking than we did in South Africa. We were told that the street boys don't come on Friday's so the only kids there would be kids coming there after school. The street boys often stay up all night and are very tired and have a hard time staying awake at the Center during the day. The staff used to wake them up but later decided to just let them sleep. These boys live outdoors and sleep on roofs, in stairwells, in sewers, and in the parks at night. After lunch I read a little more of the WMF Servant Team manual in the Overseas Safety Awareness section. They talk about how to be security conscious and aware of what might look like criminal activity. How to have a "know where you are going" demeanor and general tips about safety when traveling. They even have a section which talks about what to do if you are approached with a gun or kidnapped and how to not draw attention when traveling alone. Many of their insights were taken from World Vision informational "A Shield about Me". They seem to have a pretty comprehensive manual for the visitors. While I was reading, several of the children came into the art room and began to practice their English on me. It was tough but I managed. They were all so very playful. Later Monica told me that the children were amazed to know that I could not understand one word of what they were saying to me. I then showed the children how to wipe smiles on and off their faces. They really liked this!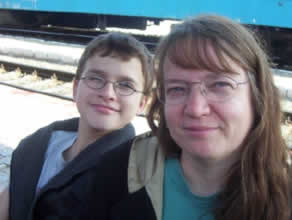 Tim and Darlene helped Monica count the tomatoes and peppers that the children grew in the garden. The Drop in Center has 'carved' a garden out of the side of the hill and there are several different crops growing there. WMF has a "deal" with the kids who want to grow a garden. They will purchase the produce from the children and give the kids the money. It was Monica's job to weigh the produce and take the kids shopping for what they wanted to get with their money. The whole harvest season yielded about one or two dollars US for each kid. Not too much but I could tell the kids were excited! While Darlene and Tim were helping with the harvesting, some of the boys from the streets (Coco and a buddy) were throwing rocks and one even stepped on a tomato. It was playful but a bit frustrating. Tim seems to be enjoying his time here. He fits in so well with the adults and the kids. He really enjoys the missionaries and seems to 'go with the flow' more than I expected. He is less selfish than I've observed him in the past and much more flexible then I remember him. Today he asked if he could go with one of the American missionaries (Rachel Simons) with WMF to a two hour children's outreach program sponsored by The Heart of the Child (a partner organization to WMF). They are putting on an outreach for the kids in the neighborhood of the Drop in Center. Apparently, most of the kids who come are homeless and street and abandoned and rejected kids but they don't all live in the neighborhood of the center.
We are learning about cost of living stuff and how much people earn here. The people WMF hire to work with them at the Drop in Center make about 2 million-3 million Lei per month. We met a teacher yesterday who has been teaching for about six years. She teaches teen age boys at a public school and has a degree from a college in teaching. She said that the salary of someone with her experience and education is about Three million Lei per month or about $100.00 US. We also learned that some of the older citizens living on pensions make only 700,000-1,500,000 Lei per month or about 20-45 dollars. This continues to amaze me.