Ken Weinkauf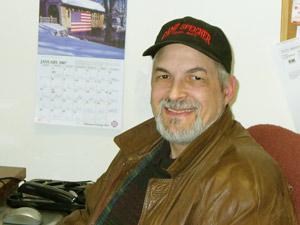 Hello, friends!
In 1990, I was devastated by a divorce that left me homeless. I came to Good Works and stayed as a resident of the Timothy House for nine months while I was trying to get my case heard in court.  I feel a great deal of gratitude to the ministry of Good Works for helping me through my time of trial. My faith in God and humanity was severely tested. But the love, understanding and support of the staff and volunteers helped me through the bad times. To watch an adaptation of my story on YouTube, click here.
After I was no longer homeless, I returned to volunteer because I wanted to give back for all the good that had been done for me.  Also, I considered the staff as my friends, not just people running a homeless shelter.  I was invited to join the night staff in July 1993. Then, in 1995, I was invited to be part of the full-time staff.
It has been my great joy to use my talents, skills and abilities for the cause of serving the neediest in our neighborhood.  I have found that there are people in our community crying out to God for help, and it is my calling to help in whatever way I can.
One of the most moving quotes I have read recently is a fictional conversation between someone and God: "So, God, why is there poverty and homelessness in the world?"  God replies, "Yes, why is there poverty and homelessness in the world?"  In other words, there is poverty and homelessness in the world, not because God doesn't care, but because He has chosen us to deliver His care. It is because we are silent, stagnant and even apathetic that there are people without food, clothing or shelter.
I am happily married to my wife Sherilyn since April of 2008.  You can read about her by clicking here. I am the father of two children from my first marriage, Adrienne and Ryan, and I have one grandson, Zachary James Allen Jeffers (as he prefers to be called).
I currently serve as Good Works' IT Resource Manager—maintaining our computer infrastructure, overseeing three Ethernet networks, maintaining our three telephone networks, purchasing and installing software and the like, and troubleshooting the various problems that come up from time to time.  I also lend support to any of Good Works' ministries where I have served in the past; Neighbors Helping Neighbors, Friday Night Life, and so on.