Nick Smith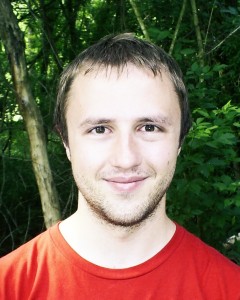 If life is a story, the theme of mine is a resounding celebration of God's propensity to redeem, to heal, and to defy expectations in the most beautiful of ways. Each chapter begins the same way: A boy believes he has reached the end of God's love. That he has been evicted from the refuge of the house of God and now has nothing to protect him from the storms of this world. And in each chapter God speaks out over the doubt and brokenness and says, "Do not be afraid, for I am with you." Over and over he teaches the boy that it is not the house or clear skies that bless him, but God himself.
I am originally from the Athens area. Having grown up here I was always familiar with Good Works but it remained largely in the periphery of my life. I knew Keith through my parents and my friendship with his son Timothy. In the summer of 2013 I accepted a position with a non-profit in Los Angeles and spent a year working there. I was visiting Athens for the holidays when by chance I ran into Keith uptown. We met for lunch shortly thereafter and he encouraged me to consider the Summer Service Internship.
After completing my Summer Internship I transitioned into a yearlong role as an AmeriCorps service member where I enjoyed a placement at Good Works. During this time my work revolved around providing access to nutritious food and health education to people throughout Southeastern Ohio. My year of service with AmeriCorps came to an end and I then stepped into my current role as house supervisor for the Good Works Timothy House. My responsibilities in this role are summarized within Good Works' objective for the Timothy house, which is:
"…to provide a safe, clean, stable, temporary, yet homelike place for people to BE while the residents work on the issues in their lives, which led to the situation of their homelessness."
My primary responsibility is to help ensure that our house is safe, clean, stable and temporary, yet homelike. In order to accomplish this I have been learning what it means to practice biblical hospitality. Providing a house is good– but providing a home is better. A place in which people belong, a "home," is a place where people not only receive, but have something to offer. This is the vision of the Timothy House. I am still learning what it means to put this into practice. Thankfully there is an abundance of grace in which to learn.