Sharon Hudson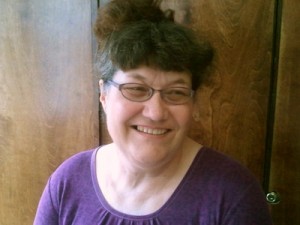 Sharon Hudson joined the Good Works Community in 2001. In 2004 Sharon was invited to move from her role at the Good Works Luhrig Road property to the Timothy House to serve as  the House Supervisor. It has been a very rewarding for her and sometimes challenging, as all good ministry is. Sharon initially came came to Good Works through the Job Partners program in 2001. Initially, she came to fulfill the requirements of the Welfare to Work program called "Ohio Works First." She quickly made herself indispensable with her quick wit and smile, her dedication to her work, and her willingness to attempt anything, even if it is outside of her experience. She was assigned to many tasks at the Luhrig Road property.
After she finished her College degree at Ohio Christian University, Sharon started Care-giving with one resident at a time. Sharon finds this to be a wonderful blessing, she loves to be able to help those Jesus called "the least of these." This part of Sharon's position does not seem like work to her, but it is sometimes the hardest thing to do, the most loving thing that is.
Sharon also manages the responsibility of food donations, the distribution of food within the organization and the distribution of the food to those in need Friday Night Life. In addition Sharon supervises daytime pantry volunteers who help sort and organize the food and other donations. Sharon also has some behind the scenes data entry administrative duties that she manages. Sharon loves working for the Lord and finds her daily training a most satisfying experience. Sharon is very blessed to be able to do the work of the Lord in her daily tasks and feels blessed to be chosen to do this work. She finds she is able to help others in a big way just by doing her job duties daily.
Sharon has a wonderful husband, Gary. Sharon is the proud mother of four wonderful children who have given Sharon 17 grand children. Eight of which live in Alaska. She is very proud of them and feels very blessed to have her "quiver full" of so many blessings from God.
Click here to read Sharon's Article, Being the Body of Christ.