Sherilyn Weinkauf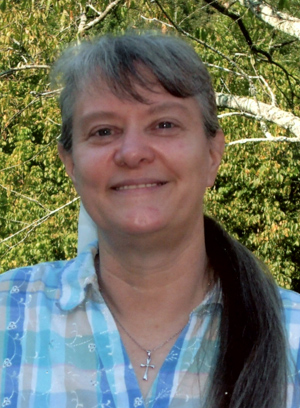 My name is Sherilyn Weinkauf. My background shaped and prepared me for what I do at Good Works. I received my first clerical (among others) training at age 21, while I was in the US Army for four years. I later trained as a Business Secretary in Virginia, and was first able to use that training when I moved to Ohio and volunteered as a church secretary.
My relationship with Good Works began as a resident of the shelter. My two children, then ages nine and four, and I were there for three months before we were able to move in to newly built subsidized housing. In June 1996 I was asked if I would like to have a job at Good Works. I was overjoyed at the prospect so, of course, said yes. In July 1996, I joined the staff part-time as the administrative assistant and soon found that I loved my job! The following year I went full-time.
My time here has been long, and filled with many opportunities for spiritual and personal growth. I went from being homeless, to living in subsidized housing for ten years, to buying my first home that I was able to help build. My children are now adults. I have remarried, and have two grandchildren.
I believe that the Lord put a deep love for people in my heart. Good Works continues to be a wonderful source of opportunities to put that love in to action. I have been here over 20 years, and I still love my job!