Ohio University Volunteer Groups
OU Groups make up a large number of the volunteers who come to serve with Good Works. Each year they make a significant impact on this community through their willingness to serve. The number of volunteer hours they freely give to Good Works and to Athens County make a positive difference in our community!
Good Works has been privileged to have worked with OU groups like these:
Martzolff Complex
Economics of Poverty
Campus Crusade for Christ
ROTC Groups
Resident Assistance Groups
Anointed Ministries
Fraternities
Business Management
Shades
Sororities
Student Alumni Board
Martin Luther King Class
Reach Out on Campus
Economic Development
Sociology Class
Freshman Honors Class
Circle K
These are just some (but not all!) of the OU groups that have come to serve with us.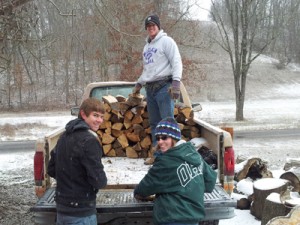 Your group will provide us with help that is very much needed in the care of our properties as you come and spend a day with us. You may be involved with yardwork, painting, gardening, construction, wood splitting and other projects associated with the upkeep of the facilities and grounds managed by Good Works. You may also help with some of the projects that we do to develop these properties.
Neighbors Helping Neighbors is another initiative that you may be involved with. We provide volunteers to low-income, disabled, and senior homeowners in the area. We seek to do a wide range of projects based on the skill levels of our volunteers that will enable people in the neighborhood to continue to live safely and securely in their homes.
How can you volunteer for a day with Good Works?
Click on the links below and read the information about volunteering with us. You will then want to talk with your group about what they would like to do. Try to get some idea of dates you would like to serve together. Groups can volunteer for a day with us on a schedule of 8:15 to 4:00 with a lunch break.
Next, call Nick Smith at 740/594-3339 to get some particular information for your group and to set the date. You may also contact us by e-mail.
The forms that you need to serve with us are listed below and in the menu above.
Just a few notes to keep in mind:
Individuals who have been assigned a project for their class and would like to complete this with Good Works will need to speak with Andrea Horsch. Individual students who are required to complete hours for a class must make a 10-week volunteer commitment with Good Works. We will sign off on these hours after the commitment is complete. Students can reach us about this criteria at email@good-works.net.
Any volunteers

in your group

who are seeking class credit, community service hours or internship credit must request this in writing, in advance through our application process. We will not sign off on any volunteer time that is required for class credit, community service, scholarship or internship credit after it is completed, unless it is approved in advance.
If your group is interested in sponsoring Friday Night Life, click here.
You will need to read the following documents as you prepare to serve with us:
These are the forms you will need to serve with us. Before submitting the application, please call Nick at 740/594-3339 to confirm the date you would like to come serve.