One-Day Work Retreat Reflections
Reflection from Linworth Road Church
Paul,
We had a very invigorating, positive experience on our one-day work retreat with Good Works.  Stories were shared wholeheartedly the next day at church as we interacted with others.  We will certainly consider returning next year, hopefully doubling our number.
 A few of us commented that we are more "doers" then "feelers", so abiding and sharing conversation during lunchtime with the staff and our patrons were stretching. We saw how a much richer experience comes out of doing work your way. The doer-side of us appreciated the amount of planning that your staff put into preparing us to be efficient and productive.
 We gained new skills from trying new equipment (power washers), performed jobs out of our comfort zones (cleaning a kennel) , and shared the load with our patrons (wheel chair-bound). We enjoyed getting to know the OU students too.
 Growing through our devotional conversations led by the Good Works staff was valuable as well.  Their perspective to our questions was insightful and set the stage for serving others.  We needed a retreat from striving to serve "our poor" and get perspective on our sterile  interactions with them.  Thank you.
 We hope your staff was encouraged in their personal growth as they worked with us as well.
 May the Lord continue to bless your love and service,
Sandy Benton
Linworth Road Church Sisters of Outreach Group from Dublin, Ohio
10 Worship Teams and 109 Worshippers
by Tina Hubbard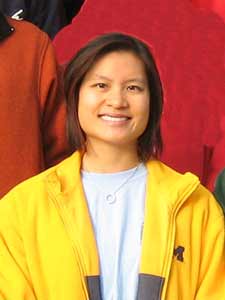 My first experience with Good Works was in the Spring of 2004 on a one-day work camp. Our team from Marysville First United Methodist Church made the trip to Athens with excitement and anticipation of how God would use us that day. We worked, served, ate and laughed together while enjoying great fellowship with the staff, interns and community members we met. It was an amazing day and I knew we needed to go back. I was drawn to the mission that Good Works had shared and I wanted others at my church to share in it as well. So, I gathered up another team later that year and we returned… again…and again.
Since that first trip, we have sent 10 more work teams to Good Works, for a total of 162 people. We have had 109 different team members, with many people returning to Good Works multiple times. Our teams consisted of all ages, with our youngest being ten and our eldest being 80. We've had individuals, couples and families. Every Spring and Fall for the past five years, God has blessed us with a wonderful team of people who answered the call to be His servants and we made the trip to Good Works to serve.
Why have we returned to Good Works so many times? We believe in Good Works and through our interactions with the staff, interns and community members, we have built a connection with the community of Athens. Our trips have provided the opportunity to build stronger relationships with one another while doing what we are called to do – to be the body of Christ. I have been on all of the Marysville First UMC trips and I have witnessed the transformation of my team members who go to Good Works with the intention of blessing those we serve, but then coming home feeling more blessed than they could have imagined. During our trips, we have done it all – mowing, painting, landscaping, gardening, flooring, construction, destruction, Friday Night Life, etc. But it's not what we do that leaves an impression, it's who we meet and the reminder of why we're there that makes an impact. We go to Good Works for God – to help God's children, to spend time with one another and to share God's love.
What I have loved about bringing members of my church to Good Works is that it has opened the doors for so many people to serve and feel the joy of serving. The Good Works work camp is often the first mission experience for many of our team members and when they experience that thrill of serving our Lord, they return home wanting to do more. Our relationship with Good Works has given our church family the opportunity to feel connected to a greater purpose. On the drive down, I get to hear the veteran team members share their stories of past trips with the first-timers, but it's even better on the return trip, when I get to hear the first-timers share stories back. And some of the biggest blessings I have heard are from the parents who served with their children. They have told me what an amazing opportunity it was to share the experience as a family. One team member said what a joy it had been for watching her 11-year old daughter laughing and bonding with the 90-year old woman they were helping on a Samaritan Project. It's experiences like that that remind us God brought us there.
Our church mission is "To Build and Be the Body of Christ" and through God's grace, Marysville First has been granted the opportunity to work towards achieving that mission by serving with Good Works. We have met so many wonderful people through Good Works and I know we will meet many more. I didn't know from that first trip that it was going to be the start of a long and rewarding relationship between Marysville First and Good Works, but I'm not surprised. After all, it's all about relationships, isn't it? Our relationship with God and with others is what makes life fulfilling. We have been blessed with a strong relationship with Good Works and Athens and I can't wait to see what God has in store for us on our next trip.
— Tina Hubbard, Marysville First United Methodist Church