Summer Service
Throughout the history of Good Works, we have provided opportunities for individuals to gain experience in and understanding of how to serve and empower our friends struggling with poverty. The summer experience with Good Works is an intensive time of discipleship for all who are involved. Your group will encounter the people and confront the issues of poverty that will help them understand God's heart for people who struggle with these issues.
Central to Summer Service are the summer interns. We are seeking to provide college students an intensive ministry leadership experience, which will shape their worldview as they pursue God's calling upon their lives. While Good Works staff is investing in them, they are providing leadership and discipleship to your group as part of their personal development. They will also be part of the community that lives in the Hannah House, contributing to the transforming experience of residents in the Life in Transition program. Click on the links below to get more information about the Summer Internship.
We call the groups of volunteers that come to serve with Good Works Worship Teams. These groups make Summer Service possible. Your Worship Team will participate in what we call a "Work Retreat," which is an experience that is much more than just physical work. It is about forming relationships with people who are often outside of your social circle. It is sharing a meal with someone who is experiencing homelessness. It is spending time in our solitude retreat cabin called "Carter Cabin." It is interacting with children who are living in difficult situations. It is providing practical service to someone who is elderly or disabled. It is the offering up of your bodies as living sacrifices as an act of worship for a God who has loved you and given himself up for you.
Beginning with the summer months of 1995, we have welcomed a large number of groups, often youth groups from churches, who come to Good Works to assist with our ministry projects. (Click here to see a list of groups who have come to serve with us over the years.) These volunteer Work Retreats are critical for Good Works and transformational for the individuals in the group. You will arrive Sunday evening and leave the following Saturday morning. Your worship team will stay in two large dorm rooms in the Hannah House that can accommodate up to 30 people. You also have access to the 35 acres that surround the house. Summer Service is an opportunity for your group to intersect with people in many of the ministries of Good Works. What follows are descriptions of these intersecting points:
Neighbors Helping Neighbors
Since 1999, we have served people in our Appalachian community by sending volunteers to their homes to help them address needs they are struggling with. Most often these are seniors who are widowed and/or disabled and are often not able to care for their property. Supervised by Good Works staff, the interns lead volunteers to provide labor to complete the needed projects. We take on a wide range of projects based on the skill level of the volunteers. We have done things as simple as mowing lawns, to more difficult projects such as replacing plumbing and roofing. This is all based on the skill of the volunteers. Both the low-skill and the high-skill volunteers have a place of service as we accomplish these projects and can be a blessing to those we are serving. We are seeking to meet the needs of an individual while forming a relationship with them at the same time that is transformative to everyone involved.
Good Works – The Luhrig Road Property
This is the property where your group will be staying. We rely on volunteers to assist us in the many projects that are required to maintain the facilities and the property so that it will be a safe and stable environment for people to live. These projects include mowing, trail maintenance, gardening, painting/staining, various repairs, wood splitting (we heat with wood), etc.
Good Works – The Timothy House
Our shelter for rural people without homes has maintenance projects that need to be accomplished on an ongoing basis. Volunteers help us with these projects to provide a clean, safe and stable environment for the residents of the Timothy House.
Property Development Projects
Our properties are a valuable resource that we continually seek to develop for the good of people in our neighborhood struggling with poverty. Each year we take on projects that will make these properties more useful for this community. In the past we have constructed our Administrative Building/Bed and Breakfast, the Picnic Shelter, The Transformation Station, a large bridge, an amphitheater, and Carter Cabin, and, most recently, the Hope Center.
Good Works Gardens
Good Works Gardens is first and foremost a context for connecting people from all walks of life. Relationships are the focus of this initiative  rather than the gardens themselves. In connection with Neighbors Helping Neighbors, Good Works Gardens provides an opportunity for volunteers to partner with homeowners and community organizations to cultivate gardens in Athens County. Many of our garden recipients are elderly, experiencing disability or are otherwise unable to provide the labor that a garden requires. Good Works Gardens attempts to satisfy this need while encouraging relationships that bridge the divide between socio-economic classes, generational and racial groups.
We also maintain a garden on the Good Works Luhrig Road Property. The Good Works Garden is similar to the community gardens in that its primary purpose is to provide a context for a variety of volunteers and community members to cross paths. The secondary purpose of the Good Works Garden is to provide fresh, organic produce to other Good Works initiatives such as Friday Night Life, The Timothy House, Summer Lunch, The Hannah House and The Transformation Station.  Good Works Gardens is supported by volunteers from a variety of Good Works initiatives including Work Retreats, Service Living, The Teen Agricultural Internship, and The Transformation Station.
Summer Kids' Discovery Club
Since 1997, we have sought to fill a gap during the summer that is left by schools being closed. Hosted at the facility of The Plains United Methodist Church, Kids' Discovery Club begins at 9:00am with various activities with which your group will be involved. Sometimes you will plan and execute these activities, other times you will provide supervision and support.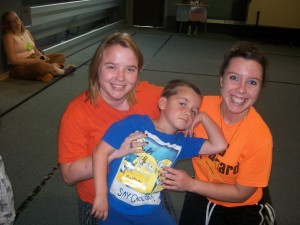 One of the key roles your group members provide is that of new people coming into the Athens County community. Not only do you bring freshness to each week, you also give the children the opportunity to meet people from different backgrounds and places. This is important to us as it enlarges the experience of children in poverty in Appalachia. Please choose to share your stories with the children as you have the opportunity. Please click here for more information.
Summer Lunch
Summer Lunch is closely connected with Kids' Discovery Club. During the school year children are able to get a good meal from the school, but during the summer this becomes difficult for some families. We are providing a healthy, nutritious and tasty meal for the children. This meal is also available to anyone who wants a free lunch. Your group will help in the planning, preparation and serving of this meal.
Friday Night Life
Your week with Good Works will conclude with sponsoring Friday Night Life, a community meal for 100-125 people. This will involve providing and preparing the meal for this event. You may also be involved with the various events going on with those that attend. Another contribution that you could make is to edify those who attend through your talents. Music, drama, comedy, etc. are all excellent venues to build up those who participate in Friday Night Life. You can get more information about this event by clicking here. After your Summer Service Work Retreat is finalized, Sherliyn Weinkauf will contact you to get you set up for Friday Night Life and to give you further details about your crucial role in this unique event.
Group Spiritual Development
Summer Service Work Retreats is about much more than doing projects. It is primarily about developing people. As we seek to develop the interns who serve with us, they in-turn help with the growth of the people in your group:
The Morning Devotional times will be educational in focus. They are going to provide the members of your group with teaching from our philosophy of ministry called "A Christian Worldview." We will also address issues that we have encountered in serving people struggling with poverty. The summer interns will lead these as part of their internship experience. Monday through Thursday, a GW staff or intern will lead this time. On Friday, we would like to invite someone (or several) from your group to lead this time.
Beginning at 9:15, the Evening Gathering is intended to be more reflective and devotional in nature. We want your group to gather to discuss what the Lord is doing in the hearts of each person. The interns will lead on Monday and Thursday and you or someone from your group will lead Tuesday and Wednesday. If you would prefer to lead all of these, please let us know and we will adjust to accomodate the goals that you have for your group.
Timothy House
During the summer we encourage members of each group to participate in a volunteer shift at the Timothy House (our shelter for people without homes). On Monday, Tuesday and Thursday, one of the summer interns will lead two members (two adults or one adult and one teen) of your group leaving the Hannah House at 4:45. Although there are chores that need to be done, this is more about being present to the people who are living in the house. This is a great connecting point for people in your group. They will have dinner with the residents at 5:30 and then participate in the evening activities until 9:00.
Carter Cabin
We want to offer members of the group time for solitude and spiritual rest. This is the purpose of our retreat cabin. We encourage everyone from the group to set aside a morning or an afternoon to be spent at the cabin. These times are included in your schedule. People will just need to sign up for the time they want. You can help people take advantage of this by promoting it among your group before you come.
With Good Works, we are seeking to serve this community and help people struggling with poverty. But "we" does not refer only to the staff of Good Works. "We" includes the many volunteers who become part of the Community of Hope called Good Works, who seek to come alongside those who are carrying the burden of poverty. Summer Service, along with much of what Good Works is doing, would not happen without the estimated 1,000+ volunteers each year who want to make a difference.
However, Summer Service is more than the activities that we plan. What makes this a transforming experience are the "Works of God" that He does in the midst of your group and in the lives we touch as we serve Him as a community of faith. This is where we bear the fruit that brings glory to our Father in heaven. This we call "experiencing the Kingdom of God."
To Start on this Wonderful Adventure
To begin planning for your worship team to participate in Summer Service with Good Works — A Community of Hope, contact Nick Smith at 740-594-3339 or email us at Good-works.net.
You will need to read the following documents as you prepare to serve with us during a Summer Service Work Retreat:
(These can also be found in the menu above)
The following documents address some of the issues associated with living at Hannah House for the week:
The following are the forms that you will need for your Worship Team:
Summer Service Work Retreat Reflections, Pictures and Videos