The Community Living in Hannah House
For Summer Service Work Retreats
All of the Worship Teams visiting Good Works will stay in the Hannah House. It is in this house that a Christian community lives, sharing their lives with one another. The residents, interns, and the Hannah House House Manager live on the second floor of the house and form this Christian community. What follows is a description of the types of people who make up the community of Hannah House.
Life in Transition – the Residents
The Hannah House is the location of our recovery program for single men and women called Life in Transition. Those who participate in Life in Transition come from various backgrounds and challenges, (occasionally incarceration) but they have demonstrated to the staff of Good Works that they are willing to abide by our guidelines and make serious changes in their lives. They do this through a comprehensive application process that is designed to identify those areas in which they are in need of help. A vital part of your experience here will be living with these folks, our residents. If any in your group have any concerns, please feel free to contact us about this. Although there may or may not be any residents in the facility when you come, please prepare your group. They will be interacting with people who are in the difficult process of personal and spiritual change. Some of the guidelines we ask you to follow are established on the basis of the struggles these individuals are facing. While it is not our desire to restrict your personal freedoms, we also do not want to put stumbling blocks before our residents. (Note: There are times when there are no residents in Life and Transition. This is most often due to staffing changes or a lack of interns in the house.)
House Manager
The House Manager lives on the second floor of the Hannah House. His/her primary responsibility is the oversight of the Christian community that lives in the house. They are available throughout the day to help you or answer any questions. The well-being of everyone in the house is their responsibility, so please contact them, day or night, if you have a need or concern. There are always unexpected issues and problems, and they are here to help you.
The Interns
The Hannah House is also the home of our interns, followers of Jesus who volunteer to live with and mentor the residents living in the house and supervise your group on the projects. Several internships function out of this house:
One of the responsibilities that the interns have is to "Host" for the evening. Each evening one of the interns will be responsible to oversee what goes on in the house from around 4:00 until 11:00. Though there are specific tasks they will need to accomplish, these are few and their primary focus is to be available for you.
Guests
We regularly have guests staying in the Hannah House, who are sometimes families. These guests are visiting to learn about Good Works and possibly become more formally connected to the community. Since we regularly include them in meals around the house, we ask that you would extend this same hospitality to them since you will have charge of the kitchen while you are here. We will let you know of any guests that are present.
Group Housing
The Visiting Worship Team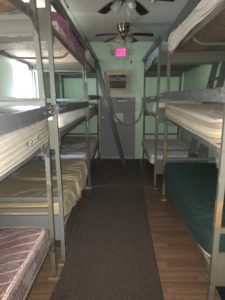 You are a community joining another community. We welcome your group and the life your presence brings to this house. Together the Hannah House and your Worship Team will form a unique expression of the Body of Christ.
Your group will be staying in air-conditioned dorm rooms with bunks able to accommodate
a total of 30 people —15 males and 15 females. This is the maximum number of people we can receive for a Work Retreat. Although there are mattresses on the bunks, no bed linens or pillows will be provided. Please bring linens or sleeping bags with you for your stay.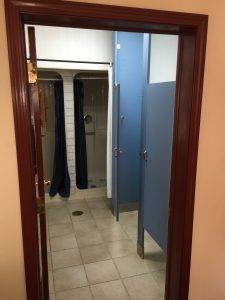 There is a bathroom located adjacent to these dorm rooms with two sinks, two toilets and two showers for your use while you are staying with us. We do ask that you take most of your showers in the evening (due to limited hot water supply) after a long day's work. Showers can be taken at other times during the day, but please use the water sparingly and for everyone's comfort, limit showers to 5 minutes.
We ask you to remember that for the Hannah House community, this is their only home. Please be open to residents and interns working and eating with you. Please tell the members of your group to not go onto the second floor unless they have been given a specific task there. All members of our Worship Teams should be in the house by 10:00 p.m. and lights out/quiet is at 11:00 p.m. This is to ensure a sound night's rest for all in the house.
The members of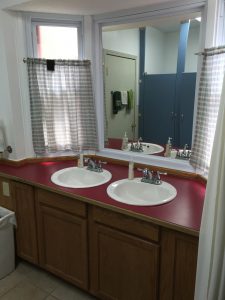 your group should be getting ready for bed by 10:45. Please be proactive in moving the members of your group toward bed, as this often becomes a stressful time for the intern who is Hosting. If you think your group would benefit from staying up later, please discuss this with the intern ahead of time and other arrangements can be made.
A Word on Appropriate Dress
Your group will most likely be doing labor-intensive projects of some kind during your visit. We ask that you dress for safety and modesty. The spring and fall seasons can be cool, so jeans and sweatshirts are appropriate. For warmer days, a t-shirt and knee-length shorts are suggested. Based on the type of project your group may be involved with, your clothing might be stained or ruined. We have a limited supply of work gloves (for those who forget), so everyone should bring at least one pair. Sandals are not appropriate for the projects you will be working on. Tank tops and short shorts are inappropriate for both men and women. Modest sleeping attire is a good idea since members will be sharing a large room (men and women will be in separate rooms) and the bathroom is a short walk from either room. Leaders should prepare both youth and adults to dress wisely and modestly.
The Process of Leadership Development
In order to make things work together well, we encourage you to assign responsibilities to the group members prior to your arrival.
The Meal Coordinator This person is responsible for planning all the meals for your group. You should make this assignment at least one month prior to coming. Each day, different people should be assigned to help this person with preparation and clean up.
The Chore Coordinator There are daily chores that need to be done and someone should be responsible for seeing that they get done. The coordinator can assign different people to the chores on different days. We also ask you to do a final clean up before you leave.
All of these tasks can be used as ways of developing leadership in the members of your group. Living together brings new challenges to each of us, but it is a great chance to grow in our relationships with each other.
Dear Worship Team Leaders,
Although you may hand out any of the information you find on our web site, we specifically ask that you print and distribute the information found at the bottom of the Team Member Welcome Page to each member of your team. This includes the following documents:
General Information About a Work Retreat with Good Works
Things to Bring
The Way We Are for Worship Teams (our house rules)
Volunteer Releases
This information will help introduce the individuals in your group with the Work Retreat and guide them as they prepare themselves. Encourage them to visit our website as an introduction to Good Works and ask them to begin forming questions for us to answer while they are here.