Meals with Good Works
During Summer Service Works Retreats
Theology:
We believe that sharing a meal together is a context for experiencing the kingdom of God, especially when our meals go across cultural, economic and social boundaries. There are some specific ways that we ask you to help us experience the kingdom of God over meals during your Work Retreat with Good Works. This is an extension of our hospitality paradigm. We do not want this to be a burden to you, but a blessing in which you encounter Jesus.
Each of the meals that we will have together is an opportunity for us to gather together as the people of God. We do not eat separately, but intentionally together. While we ask you to provide food for these gatherings in which your group will participate, the meals and preparation are a shared experience, some of which you will provide and some Good Works will provide.
What we are asking from you:
Please include the people living in the Hannah House (staff, interns and guests) in your meals. While this could be up to 10 people, it is more often around 3 to 5. We can let you know at the time of your Work Retreat how many will be in the house during your visit.
We also ask that you prepare a special lunch on Monday, Wednesday and Thursday. These are the days when our Transformation Station volunteers and other Good Works volunteers are present. We want to create a context in which these volunteers experience the broader Good Works Community of Hope, including the members of your group! This meal would include staff, interns, guests and all volunteers who are present and could be about 15 people.
Some of your group members will be involved with Neighbors Helping Neighbors. It is our desire to bring the community together for lunch, but this is not always possible when you are serving farther out in the county. But you should plan to include the person you are serving in your lunch. Bring an extra lunch to share! Occasionally, if you are not too far away, you can invite the person you are serving to come back to Good Works with you for the community lunch you are providing. This also has been a wonderful blessing. It is also possible that the person you are serving may want to provide you with a lunch as a way of thanking you. Please receive this meal with gratitude. We will let you know if this will be the case.
We ask that you sponsor Friday Night Life as part of your Summer Service Work Retreat. This is a community meal for 125-150 people. After your Summer Service Work Retreat is finalized, Sherilyn Weinkauf will be contacting you about the details for Friday Night Life.
We encourage you to do your shopping after you get here, though you may want to bring some things based on your arrival schedule. Because of the abundance of some items in our pantry, you will not need to purchase these. After you determine what food you will need, you can shop at Foodland and Seaman's, two locally owned stores that are close by. There is also a Kroger and a Walmart not too far away. On Wednesdays and Saturdays the Athens Farmer's Market is open for you to purchase local fresh produce. By purchasing your food in Athens you will also be helping the local economy.
What we are providing to you:
For these meals we would like to contribute food from our food pantries. While this will not be adequate for a full meal preparation, it will help defray some of the cost associated with the meals you are providing.
The members of your group that participate in the Kid's Discovery Club and the Summer Lunch will participate in the Summer Lunch. Their meals will be provided. It is also possible that some of your group members may have lunch here on their way back to GW after serving in the community.
We would like to have two members of your group join the Timothy House for dinner on Monday, Tuesday, and Thursday. No food contribution is necessary, just your presence. These two members of your group will leave the GW property at 4:45 and stay with the house after dinner until 9:00 pm.
The Kitchen
The kitchen you will use is equipped with an electric stove, a microwave, a dishwasher, and two sinks laid out on a large u-shaped countertop. Click here to see a list of kitchen supplies available to you. You will also have a refrigerator and food pantry space set aside for your group.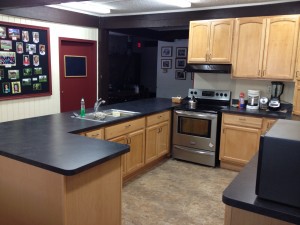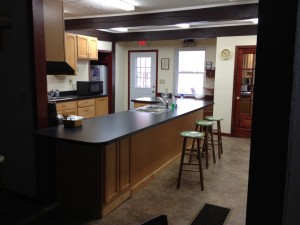 Stewardship
In an effort to be good stewards of the resources given to us, we encourage the use of re-useable dishware and recycling. We discourage the use of paper and plastic products that are thrown away. Although we have plenty of dishware for your group, handling drinking cups can be awkward. We recommend that each person have a water bottle with their name on it. The creativity of your meal coordinator will be most helpful at this point.
Thank you!
We recognize that our meal requests are a lot to ask from a visiting group. Please know that this is a significant blessing and contribution to the community of Good Works. Thank you! Because of this and your presence, we believe we are experiencing the kingdom of God as we together gather for our shared meals. If you feel like we are asking too much, let us know and we can make adjustments. We don't want these hopes or expectations to deter you from coming.