Practical Service Opportunities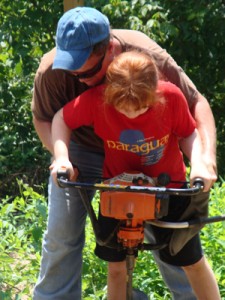 While the projects are an essential help to Good Works and to our community, we do not feel they are an end in themselves. Rather, each is a catalyst to something greater—the formation of relationships and the building of your faith community. Your act of service together becomes a catalyst not just for individual growth but also for community growth. God is seeking to form you into a people who choose unity to follow Him.
We are probably less concerned with finishing a project than your group is. While it is nice to come and finish a project and see what has been accomplished, it is not our primary goal. There are many other volunteers coming after you who can finish an incomplete project.
We do not consider a work retreat successful when a group comes, finishes a project and leaves. If the people in your group have not made a relational connection with someone in our community, the Work Retreat is not considered a "success" in our mind. There are other things that need to happen as a project is being completed.
All that being said, we want to do all our work with excellence as unto the Lord as a worship offering to Him. It is not helpful to anyone to do our work poorly for the sake of forming good relationships. What we are saying is that the quality of the task and the quality of the relationship must be kept in balance.
No doubt you will be building on the work of previous groups. We have found that each group has a unique set of standards in going about their work, as you will also. Each group has sought to do their project to the best of their ability under our leadership. Please respect the efforts of the groups that have gone before you, as you will want others to respect your work.
Part of the ministry of Good Works is to serve our community through Neighbors Helping Neighbors. We will plan to make this a part of your experience with us. Please respect the wishes and expectations of our neighbor.
Please let us know if you have any preferences or ideas for a particular work project. Although we have many needs that we are seeking to fill, we recognize that you are coming with some specific goals for your group. We want to incorporate those into the work project plan for the time you are with us.
Types of Projects
There are about as many types of projects as there are groups, but we can give you an idea of the type of work you might be doing from the accomplishments of past groups.? Some groups have installed hearths and built storage sheds. Others have done specific construction, electrical and plumbing work in our facilities. Mechanics have worked on our vehicles. Many have helped Good Works by caring for the yards, agricultural work and splitting wood. Other groups have painted, cleaned, moved, and restored parts of our facilities that needed some refurbishing. In the past years volunteers have built:
The addition onto the Timothy House
Carter Cabin
The Transformation Station
Our Administration Building and Bed & Breakfast
Playground for children
Stage for the amphitheater
Hope Center
Skills
We welcome groups of all skill levels. There is much to be done on the facilities and properties requiring general skills that can be easily taught and supervised. We are often in need of individuals in groups that are willing to mow lawns, weed gardens, split wood and clean.
We are also thankful for those who bring specific skills to serve at Good Works such as floor layers, masons, electricians, plumbers, carpenters, roofers, etc. Please let us know about the skill level of your group and any persons with skills that can be employed on particular specialized projects. These skills are an asset to us and we want to take advantage of them to the extent the individual is willing. We are extremely grateful for those who, working day after day in their fields, share their trade skills with us on a weekend to help us develop this ministry.
As an organization, we can promote Work Retreats in two ways. We could promote our need for volunteers by specifically describing the project we need help with. Though sometimes we do this, we generally prefer not to. Since we are a ministry focusing on people and relationships, we feel strongly that starting with the project gets the focus off of these relationships. We want you to come to a community not to a project.?
Our preference is to promote the ministry of Good Works as a whole. Then we will generally describe the various types of ministries that you could be involved with, determining the specific project after we know the skill level of your group. We want to know about you first. Who are you as a community and what do you have to offer our community? What are your goals for your group? Who are you trying to become as a faith community? As we learn about you, we can then prayerfully entrust to you the needs of our friends who have sought assistance from us or to assign specific projects on Good Works properties.?
This is why the Team Profile is so important to us. This information tells us about you and the unique people that are offering themselves to serve. Occasionally leaders will give us a profile with a list of names but listing no areas of interest or skills. This makes it difficult for us to put you into places of service that are most appropriate for your Worship Team. The more information you provide us, the better we can know you before you come.
Tools and Materials
Most of the tools and equipment owned by Good Works have been donated to us. We do our best to keep our equipment safe and in working order, avoiding those frustrating scenarios of getting to a project site and having equipment that does not work. Unfortunately, this does happen. Please gives us grace and make the best out of a situation that we would rather did not happen.?
While we have the tools that will be needed for most of the projects we do, we have found that people are more comfortable with their own tools. In addition, we do not have many trade specific tools, in which case that individual will want to bring these with them. In either case, thank you for sharing your resources with us and with our volunteers. This is indeed a great blessing to us.?
Good Works will usually have the materials needed for your project. These are paid for with the donations you give to us. Special projects may require materials that are beyond our budget. Please let us know if your group could help with these materials.?
We are not able to fund materials needed for Neighbors Helping Neighbors. This may be an area your group could help with while you are with us. If you are interested in making a separate donation toward materials for Neighbors Helping Neighbors, please let us know as soon as possible. For some people, this makes the difference in whether or not we can do the project for them.
Click here for more information about Neighbors Helping Neighbors.