Weekend or Weeklong Work Retreats
September through May
Good Works welcomes all types of groups to come serve for a Work Retreat. While service is one motivation to come, some groups are also seeking to strengthen the community aspect of their group.
Your group will provide us with help that is very much needed in the care of our properties as you come and serve with us. You may be involved with yard work, painting, agriculture, construction, wood splitting and other projects associated with the upkeep of the facilities and grounds managed by Good Works. You may also help with some of the projects that we do to develop these properties.
Neighbors Helping Neighbors helps people in our community who struggle with poverty, age, physical limitations and disabilities. We seek to help people with a wide range of projects based on the skill levels of our volunteers that will enable people in the neighborhood to continue to live safely and securely in their homes.
Generally, we do not schedule Work Retreats for the period after Thanksgiving through the end of January. If you would like to consider a Work Retreat during this time, please call Nick Smith at 740-594-3339 to discuss this. If you would like to do a group project in February, please consider the Good Works WALK.
WEEKEND WORK RETREATS
Typically, a Weekend Work Retreat involves arriving on Thursday or Friday evening and staying until Sunday morning. This kind of schedule will provide you with additional opportunities to connect with Good Works. For those groups that will be here Friday evening 4:00-8:00 pm, you may be able to Sponsor Friday Night Life as part of your time with Good Works. This will require arriving by 4:00 pm for a full orientation to Friday Night Life. If you do not think you can make it by 4:00 pm, you can be a Participating Group for Friday Night Life. We ask for these groups to arrive by 5:00 pm for a brief orientation. If this is not possible, you are still welcome to come and spend the night. We ask groups to arrive at 8:00 pm. We have found that this is a great way to prepare for Saturday's day of service.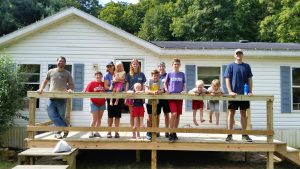 WEEKLONG WORK RETREATS
Occasionally a group will want to come for a full or partial week. This is especially the case during the spring break months of March and April. (If you are an Alternative Spring Break Group, click here for information about ASB Work Retreats.) We would very much like to have you come for a week. Your group will be able to intersect with many Good Works ministries and we will create a schedule that will provide for this while accomplishing your goals for the group.
A Weeklong Work Retreat is usually a Sunday/Monday/Tuesday through Saturday or Sunday. While we can be flexible with the beginning and ending days of the Weeklong Work Retreat most of the year, this is not possible during the summer. (Click here for information about Summer Service Work Retreats.) If you should decide on a Weeklong Work Retreat, please keep in mind that we do not plan for projects on Sundays. Staff or interns will be available to assist you as needed on Sundays, but you will basically be on your own to plan activities for the group. You can consider Visiting Group Activities for things to do in our area.
For the Weeklong Work Retreat we would like to suggest that you sponsor Friday Night Life as part of your time of service with us. This will give you a great opportunity to interact with many of our friends struggling with poverty.
Read the information on the menu above or the links below about Work Retreats and then talk with your group about what they would like to do. Try to get some idea of dates you would like to serve together.
Next, call Nick Smith at 740.594.3339 to get some particular information for your group and to set the date. You may also contact us by email. You can get the forms that you will need on the menu above or the links below.
One of the advantages to the Weekend or Weeklong Work Retreat is that it provides the group with an extended time together. Not only does the group get to serve those in our community, but they get some time to invest in one another.
Reflections from Weekend/Weeklong Work Retreats
Preparing for your Work Retreat
Your Commitment
Requested Donation
Orientation and Communication
Spiritual Development of the Worship Team
Serving during a Weekend/Weeklong Work Retreat
The Work Retreat Schedule
The following documents address some of the issues associated with living at Hannah House for the week:
Community Living at Hannah House
Meals with Good Works
Meal Prep Schedule (weekend)
Meal Prep Schedule (weeklong)
Kitchen Supplies
Daily Chores
Final Clean Up
Visiting Group Activities
Forms you will need for your Work Retreat