Work Retreats for Families
It is our desire to give families the opportunity to serve together. We believe that this is an important form of modeling to children, teaching them kingdom values and the importance of offering themselves in service to others. It is also a time of nurturing the relationships that make up the family. It is disconcerting how often the family is driven apart because of their age. We want to do something that will enable the family to do something together. As you are focusing on another who is in need, you are doing it together and thus forming a significant memory.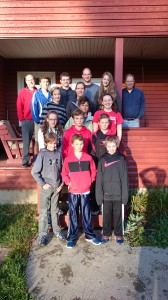 We will plan for you to serve someone in our community whose need will match the skill level of your family. Their request for assistance will be one that everyone in your family can meet as you serve together. Our initiative called Neighbors Helping Neighbors seeks to help people who are elderly or disabled. Our goal is to create a context in which your family can serve together while helping someone meet their need.
You may also serve together while helping Good Works address some of the needs on our properties. This could be within the context of the Timothy House or on the main property of Good Works located on Luhrig Road, on which there are several facilities.
How can you make this happen? Read the documents below about Family Work Retreats, which will provide some general information to help with your planning. There are several options available to you for a Family Work Retreat:
One Day Work Retreats give you the opportunity to come for a full day (8:15-4:00 with a lunch break).
Weekend Work Retreats will provide you with the option of arriving on a Thursday or Friday and staying until Sunday, staying in the Hannah House with the community living there. This will also give you the opportunity to participate in Friday Night Life, a community meal for 125-150 people.
Weeklong Work Retreats is is a great immersion into the Good Works community as you intersect with many different contexts in the ministry of Good Works. We can set this up around your schedule and the Good Works schedule to provide you with the best experience possible.
Summer Service Work Retreats is the most intense experience for a family, arriving on Sunday and leaving on Saturday. You will join with one of our Summer Service groups who come for a week to serve in many of the contexts in which you will be involved.
Discuss these options with your family and then contact Nick Smith at 740.594.3339 or through email. We will discuss the particulars of your family serving with Good Works and then set a date for you at that time.
We generally do not schedule Work Retreats for the period after Thanksgiving through the end of January, but if this is something you would like to do, please contact us to talk about it. If you would like to do a family project in February, please consider the Good Works WALK.
Reflections from other families who have come to serve at a Family Work Retreat
We also have groups who come with families. Here is a video reflection of one such group:
Documents you will need to plan for your Family Work Retreat:
Forms you will need for your Work Retreat