Family Work Retreat Reflections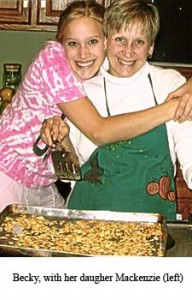 This letter is from Becky McCanna, who came as a part of our Family Work Retreat /Week of Service Internship with her daughter and her niece.
Thank you for a truly memorable and profound few days at your vibrant and spirit- filled organization. It was a profound experience for me, and a true growth experience for both my girls. We talked for 2 1/2 hours on the way home about our various impressions. When I asked them what they felt was the biggest thing they took away from the experience, they both said, "We think we will judge people less." I'd say that was a step in the right direction!
Sometimes we don't realize how our lives touch others. I would like to tell you something I have learned from this experience. This being my 7th "mission" trip, I had an idea what to expect. What happened was unexpected.
The work at kid's camp was enriching in terms of watching Coral (Summer Service Intern 2005) respond to the children's needs. She was calm and very caring; as was Angi (another Summer Service Intern) the last day when a young boy cried because he could not think of one way his family showed him love. So sad.
Mowing grass was just good physical work—I always love that. But traveling with Terrez and Valerie to see Thelma and Richard was a labor of love that gives me goose bumps. A run-down house far from everything, a sick man in no air conditioning sitting in a house filled with rooms full of years of memories, love and life. A 91-year old wife who canned 19 pints of beans the night before! "Don't let me die until I'm dead!" And Terrez gave them life, love and laughter. He acted as if we had all the time in the world to visit. It spoke volumes to me about Jesus.
Then came the Timothy House, and the Friday community dinner. The evening at the Timothy House absolutely blew me away. Nothing out of the ordinary happened— except everything out of the ordinary happened. I expected to meet people down on their luck—what I met were people down from life from a lifetime of no luck. Not that I believe in luck, but it was apparent to me that these people never had the chances I've had, the love in their life that helps see a person through hard times. A few did seem to just be in transition – but several seemed to just be sad; life had not been fair; love was missing. I think that evening will stay with me forever.
And maybe most important is this—for several yeas I have been tying to discern a new direction in my life. I've been a happy stay at home mom for 22 years but since our youngest is 14 and I still have a few years to give, I have been praying, reading, and basically been on a quest to find God's will for me.
It had seemed I had found it several years ago on a mission trip to East Harlem. I felt called to work with the poor. But returning home I didn't pursue those feelings and settled back into being mom, volunteer, friend to the elderly, and my other pet interests. But I kept searching.
Most recently I thought I should return to school and get a teaching certificate to work in an inner city Catholic school. That still may be the route I go since being accepted into a program at Ball State University in Muncie, Indiana.
But the cry of the poor haunts me and I feel very drawn to front-line work in some capacity. I think the Timothy House was a catalyst in this process.
As of this writing, I am still completing my acceptance to Ball State for Fall 2006. I want to see what God will place in my path over the next few months first to see if I can work more closely in a place where I feel spiritually and emotionally free.
Thank you for providing the impetus through your caring organization and may God continue to bless your Good Works.