Spiritual Development of the Family Worship Team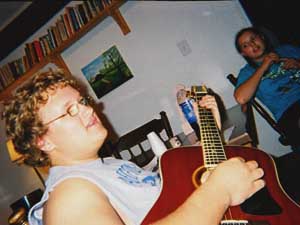 Your time with us is not only about work. It is also about the spiritual development of your family. We want you to see this experience as an act of worship. Whether you are mowing the lawn, helping a widow, serving lunch to a child, sharing a meal or just playing volleyball, we want you to see these experiences as an act of worship. That is why we call you and the other groups that come to serve as a Worship Team.
I urge you, in view of God's mercy, to offer your bodies as living sacrifices, holy and pleasing to God — this is your spiritual act of worship. Romans 12:1
Whatever you do, whether in word or deed, do it all in the name of the Lord Jesus, giving thanks to God the Father through Him. Colossians 3:17
There are several activities that you may be involved with to enable this to happen. Often there are groups here that you will be joining with during these times.
Morning devotional time with Good Works staff/interns. This time is intended to help the family see their service as an act of worship. The focus is educational about how God views poverty and people who struggle with poverty.
Participation in Timothy House evening activities. The Timothy House serves people who are experiencing homelessness. Your family may participate in the evening meal and activities that follow. This will depend on how many people are at Timothy House and the day of the week you are present with us. We will let you know if this is a possibility. If you do not think this is appropriate for your family, just let us know.
Use of the Carter Cabin. You are welcome to use our solitude retreat cabin with your family. We want to provide times of "holy rest," prayer and Bible reading.
The Good Works Talk. Keith Wasserman, Founder and Executive Director, will spend time with you discussing how Good Works began and how we have grown in loving our neighbors who struggle with poverty. If Keith is not available, one of the other staff will share this with you and their own journey with Good Works.
Evening Gathering. Beginning at around 9:15 each evening (this time can be adjusted) your family can gather for worship and reflection. This is a time to discuss the "God Moments" of the day, times when we experienced the Kingdom of God in some way. This is what a visiting group would be doing and you can join with them. If no other group is present, you can form this around your own priorities for your family. Although the interns will initiate this time, you have the flexibility to put into place elements that you feel are important. This could include singing, group Bible reading, reconciliation among family members, testimony, or helping to process the events of the day. If the weather is nice, this can be around a campfire or you can use the amphitheater stage on the property.
The evenings (prior to Evening Worship) at Good Works are set aside for your use. We encourage you to develop activities that will balance the work of the day with recreational times that bring the family together again. Basketball and volleyball are available to your family as well as hiking through the trails on our property.