Darlene Wasserman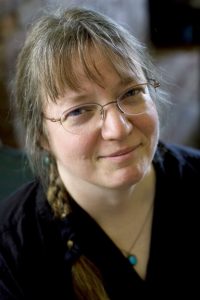 I'm Darlene Wasserman. I have been a part of the Good Works community since 1981 when I married Keith Wasserman. I have served in various ways with Good Works throughout the past 35 years or so, but am currently very involved in our outreach to others through food and community meals.
During the Summer Service season, I oversee the lunch we serve Monday through Friday for our participants in the Summer Kid's Discovery Program and any community members who join us for Summer Lunch. I have the privilege and challenge of planning and cooking a hot nutritious meal that utilizes all the wonderful fresh produce that we grow, or that is generously donated to us.
I also coordinate the meal portion of our Friday Night Life community event. Each Friday a different generous group sponsors the meal. I guide the serving and cleanup of the meal they prepare. This meal is open to anyone in our local community, and typically we serve 80 to 150 friends and neighbors every week.
I consider myself blest and fortunate to be involved in these two aspects of the way we are seeking to love our neighbors here in Southeastern Ohio.