Keith's Sabbatical Journal — August 11
August 11, (South Africa)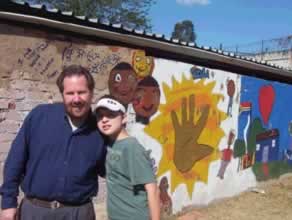 Greetings from South Africa—the land of racism, apartheid and wild monkeys; a land where there have been massive changes in the past 10 years. Only ten years ago, the blacks in the townships needed permits to enter the cities where we are staying. The whites (the minority) had jobs, houses, electricity, water, money (infrastructure) but the blacks had dirt roads, huts, no electricity and lived in poverty many unable to feed their children. With Nelson Mandela's release from prison and his coming to the Presidency a few years later (Mandela is to these people what Gandhi is to the Indian people) all that began to change and apartheid is slowly losing its power in this culture. The laws have changed but the hearts of the people have not all changed. We can SEE the resistance of some of the whites and their hatred and racism (both hidden and blatant). We can see the increase in crime and the fear, too.
We arrived on Wednesday August 6th after a 11 hour flight from London on British Air. Did you know you can watch movies for almost the whole 11 hours? I ended up not being able to sleep and stayed up about 38 hours total. We were met at the airport in Durban by friends who are missionaries with Cornerstone International in Pietermaritzburg. Cornerstone is a mission sending organization based out of Wilmore, Kentucky. We met the director (Duane Jones) while we were at Asbury and he arranged for us to meet Ron and Joanna Zeiner who are missionaries and work with ESSA (the Evangelical Seminary of South Africa). Ron teaches OT to about 55 students from various African nations. We stayed a night at their beautiful home and got to meet their daughter Mary, her friend Debbie, their dog Max and see some wild monkeys. I have never seen monkeys in the wild before so that was very interesting! The next day after a picnic in the park with wild zebras, we moved to stay with a ministry called Youth for Christ (located in the same city of Pietermaritzburg). We are about 1 hour from Durban which is on the coast of the Indian Ocean. If you look at a map, you can see Durban right on the coast of the Indian Ocean. We are now living in one of their International Volunteer Houses with several single women from Holland, Germany, and the USA. Next door is a home for street children (about 20 boys, ages 7-12) and around the corner is a home for school-age girls who were living on the streets. The ministry here is very involved with children, doing both prevention (by building trust with kids while they are on the streets), residential care and after care. The have a team which just works with street kids in the HOPE that they can get the kids to leave the streets and after a stay with YFC, and eventually be reunited with their families. Unfortunately, some of their parents have died of AIDS and other parents are violent and abusive and the kids often don't want to (or can't) go home. On Saturday, some staff workers drove three children home to one of the townships where they came from and within a few hours, the children had found their way back to YFC in the city.
The AIDS problem here is out of control. 90% of those in the local hospital are dying of AIDS. Today the paper reported that 50% of the children in the hospitals have AIDS. There are large funerals in the city every weekend. I'm told that it is not unusual to see 50 grave holes on a Saturday at a cemetery in this community. YFC is working primarily with the Zulu people and the Zulu cultural mindset which has a rather male-dominant view of women. Therefore, the culture encourages men to live with women before they are married and also encourages the men to have a wife and several girlfriends on the side. These "cultural values" have been around a long time and the men seem to think they are invincible and will not get AIDS. And if the men have children with their girlfriend and decide the relationship is not going to work out, their culture allows them to leave their girlfriend and their children and to have no further responsibility. There is so much I have to learn about the Zulu culture. Are any of you familiar with the Zulu people? I have been told that their founder (Shockazulu) was quite a violent man. Many children are being orphaned because of AIDS and the people are so poor, they can not afford the 1200 R (the currency here) a month for the medicine (about $115.00) to treat AIDS. Worse yet, Zulu witchdoctors are telling the men with AIDS from the tribes that the way they get healed of this is to find 3 virgins and to have sex with them. The problem of sexual promiscuity here is overwhelming. Good news though: just yesterday (Sunday) the news reported that the government has agreed to allow Antiretroviral drugs for treatment for those with HIV. This will slow the AIDS process for so many.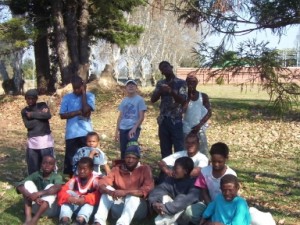 I am really so excited to be here and I think Timothy and Darlene are excited too. Tim seems to really connect with the boys even though they know so little English. Everything is different here from our experience in London, Holland, Canada and the US. It is winter here now so the nights are cold but the mid part of the days are warm (around 50-70). I tried to photo the monkeys while we were at the Zeiners home but Max (the dog where we were staying) chased them away. Debbie (a girl from the US who was also visiting the Zeiners for a month) says she is volunteering with a ministry (Bridge Builders) who works with youth to bring reconciliation between the races. She is going to a camp next weekend where a woman from Ireland (who has worked to reconcile the Catholics and the Protestants) will be setting the stage for the young people to listen to each others feelings and fears about other races. I think this is so good. Immediately I was aware that the problem of Apartheid has brought about new ways for the good news to reach the people. Reconciliation is a concept acceptable to many different groups and a door to explain the power of God's love. Again, God has taken a horrible injustice on the part of human beings and turned it into another opportunity to explain what REALLY GOOD news is. AIDS has become another door thru which the gospel can be explained – people are open to listening to answers because they are so immersed in a culture of death. Death does have a way of opening up people to the real issues of life.
For my QT I read Proverbs 7 about the young man who lacked judgment and ended up being "caught" into the grip of an adulteress. I do think that part of our role as leaders is to teach young men judgment and also to teach them the principals of using wise judgment. Nevertheless, the young man in this chapter lacked what he needed to keep him from the adulteress. The scripture says that she seduced him but clearly he lacked the framework to understand that this is what these Proverbs 7 women do and that we must live in a kind of 'readiness' that will enable us to see these women for what they really are: death traps. Being in South Africa and hearing again about the serious problem of AIDS and how the Zulu culture 'normalizes' sex between many partners has enabled me to have a different look at this chapter. Clearly this verse "keep my commands and you will live" (vs. 2) has a different meaning in the culture of AIDS. Clearly, "little knowing it will cost him his life" (vs. 23) has a different meaning in the culture of AIDS. Clearly "her house is a highway to the grave, leading down to the chambers of death" (vs. 27) has a different meaning in the culture of AIDS.
As I mentioned above, we are working with Youth for Christ South Africa. Their motto is "Giving HOPE to Children and Youth" and they operate the Khayalethus project which is where we are staying. The Khayalethus project is designed as the second step in a four step process to move street kids off the streets. There is an average of 35 children living on the streets at one time mostly from age 7-14. We are staying in one of the bedrooms inside Khayalethus project where International Volunteers live. Next door is the boys shelter and down the street is the girls shelter. YFC has about 25 first year and 12 second year full time interns working with then. Their interns are people from the community (mostly the townships) who work with their programs but receive only reimbursement for transportation and training.
Step 1 – "Providing street based outreach through Street Work teams with the intention of building trust with the children and young people, encouraging them to return home or to move into temporary residential care". Children do not have to agree to go back home but they do have to understand that this is the ultimate goal of YFC.
Step 2 – Running a holistic, short term (maximum stay is one year) residential-based programme that provides for the basic needs of a child, giving opportunity for personal development and intervention with the family that serves towards reunification". We are staying in a house right next door.
Step 3 – Providing aftercare services on agreed upon expectations with families who have been reunited with their child to provide support and monitor their stability after reunification.
Step 4 – Developing community based prevention programmes in communities where children are at high risk of moving onto the streets on a temporary or permanent basis.
Why do children leave their homes in the townships and come to the cities? The numbers are staggering and the stories complex. There are other multiple reasons that explain why the children leave their home and relocate to the streets:
Crippling Poverty
Long-term unemployment amongst the parents
Cramped and poor living conditions
Limited opportunity for education
Sick or dying mothers
Peer pressure and no opportunity to go to school
Many of the boys and girls living at the Khayalethus project are 3-4 grades behind in school. Each day around 5:00 pm they have a homework time for kids to work on their homework. Tim has been helping a few of the kids with their homework especially their math fractions. Most of the boys speak Zulu and English. A few of the younger ones do not speak English.
Glue sniffing seems to be a major problem among the street kids and also some of the kids in the boys shelter. The boys seem to have a psychological addiction to glue and will often beg for money for food and use it on glue. Some people who sell the glue mix it with petrol (with lead) and combined with glue, this damages the muscles of these young boys. There are some boys in Durban who can no longer move because their leg muscles have deteriorated.
On Saturday we went to a park called WORLD VIEW and had a picnic with the boys and girls of the YFC homes. They played the game 'keep away' with each other (with a ball) and had such a good time at it. Tim joined in and was accepted very well. After lunch the group began to dance traditional Zulu dances. We joined in several of the dances and it was fun. The next day one of the YFC staff workers (a Zulu himself) told me how excited the children were to have us dance with them. He said that this was the first time the children had ever danced together with white people.
YFC used to operate a night only shelter up until about 3 years ago but they really had a hard time reaching the kids. The offered showers, food and overnight accommodations to the street kids. The Police raided the facility several times and found guns and drugs. One day, one of the staff was directing a street kid to come inside and the street kid stabbed the worker (Tennyson) and he died. Soon the facility and the program was closed down. Later, YFC opened a new program to serve homeless girls in Durban. They named the program Tennyson House.
Finally, I learned that the concept of time is defined a little differently here in SA than in the US. Time is defined in two ways here. Now now – means it will be (or should be) done immediately. Just now – means it will be done sometime today or tomorrow.