Praxis
Praxis is a Good Works initiative that was launched in February 2017 as an invitation to Ohio University faculty and students to join us in our efforts to care for our neighbors here, in the Athens County community.  We've worked hard to structure Praxis experiences in such a way that they fit well into the Service Learning curriculum that is currently being implemented by many Ohio University course instructors, across a wide spectrum of disciplines.  Praxis is particularly well suited for courses carrying the "C" class designation.
Through Praxis, it is our intention to afford students an opportunity to engage the Athens County community in a meaningful way.  It is our hope that interested course instructors will incorporate a relationship-centered volunteer experience directly into their course curriculum.    Experiences can be customized to fit the needs of a specific course.  However, as a general rule, Praxis experiences are structured in a way that allows students to participate in one or more Good Works contexts in a repetitive, weekly manner.  Consequently, Praxis experiences carry the expectation of a weekly commitment to participate.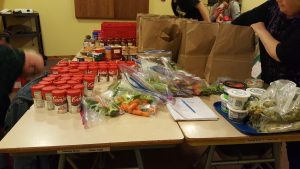 During the fall semester of 2017, we welcomed Prof. Christine Zachrich and her team of dietetic internship students into a four week long experiencing involving both Friday Night Life and the Good Works Timothy House.  Prof. Zachrich's students used their dietetic know-how to craft healthy meals for the Friday Night Life community.  In addition, the interns helped the Timothy House to process and save an abundance of donated, fresh produce.  In both contexts, the students were afforded the opportunity to connect with people from many different walks of life.
If you are an Ohio University faculty member, a student participating in a Service Learning course or you're simply interested in finding a way to connect the Ohio University community with its Athens County neighbors , please contact Doug Schmaltz at email@good-works.net or 740.594.3339.
Commitments for participating in a Praxis student volunteer experience during Spring Semester 2018 must be received by January 19th, 2018.