Appalachian Immersion
Jesus invites you to follow him to the margins of our society, into places of suffering, where hope is born. Come bear hope with us and our friends struggling with poverty in rural Appalachia. Come, and experience God's transforming power in and through your life. Create with us a community of hope.
The people who sat in darkness have seen a great light,
and for those who sat in the region and shadow of death light has dawned.  From that time Jesus began to proclaim, Repent, for the kingdom of heaven has come near.

Matthew 4:16-17
Do you hear this radical call of Christ to follow him into the daily labor and joy of loving your neighbor in the context of Christian community? As an Appalachian Immersion intern, you will experience the people and places of rural Appalachia deeply as you spend 4 or 5 months in the Good Works community. Our philosophy of ministry states:
The vision of Good Works is to create a loving COMMUNITY OF HOPE where people experiencing homelessness and poverty in Southeast Ohio can sense God's love and presence through us. Good Works' intention is to improve people's quality of life through meeting felt needs, building trust, strengthening human dignity and self-worth, and providing opportunities for education and employment. We seek to nurture those we serve in an atmosphere of tough and tender love, compassion, and responsibility.
In your time as an intern you will gain a broad experience of Christ-centered ministry among people struggling with poverty. Participating in and giving leadership to several different contexts for service will stretch you! We seek to give you a balance of responsibilities that will be enjoyable, energizing, empowering and challenging. The internship is flexible regarding each individual's areas of strength and weakness.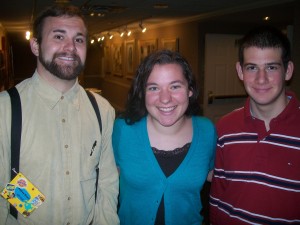 You will also become a vital part of the Good Works Hannah House community, home to a diverse group of people over the years. The Hannah House is a large farm house a mile outside of Athens, Ohio, surrounded by beautiful rural scenery. The first floor holds Good Works offices and dorm rooms for short-term volunteers as well as a big, well-used kitchen. Upstairs offers private living space for Hannah House residents, along with several guest rooms.
As a community, we commit to building honest, trusting relationships with each other. We believe that living in community with other believers is a true catalyst for personal and spiritual growth. And if we open our eyes, we may glimpse the body of Christ, where people come together across society's boundaries.
One intentional way we seek to become the family of God across these societal boundaries is by inviting people who are transitioning from homelessness to live with us. A majority of these individuals have lived at our shelter (The Timothy House) for a period of time and are ready to continue steps toward personal growth. We seek to provide affordable housing, support and accountability in this formative period of their lives. Appalachian Immersion interns have a unique opportunity to become friends, mentors and, occasionally, roommates with a Life in Transition resident. Each of these individuals completes a thorough screening, application and interview process prior to moving into the Hannah House.
During the months of June through August the Hannah House undergoes a transformation, as it becomes the epicenter of Summer Service at Good Works. Volunteer "worship teams" come live with us in the Hannah House and allow their work of service alongside our community to glorify God. During this final stretch of your internship you will provide significant leadership to these teams in your focus areas. In addition, you step up to mentor the interns that join the community just for the summer.
AT A GLANCE: The Appalachian Immersion Internship includes:
Hannah House Community: This involves building honest, trusting relationships with your housemates through eating, praying, sharing, meeting, working, resting and having fun together.
Life in Transition: Open your home to people transitioning from homelessness. You could potentially be a mentor, friend or roommate with someone in this long-term residential program.
Hospitality: This includes welcoming short and long-term guests into the community through the gift of your presence. Each person is assigned hosting responsibilities each week. Interns also communicate the vision of Good Works to visitors.
Education and Discipleship: We place particular emphasis on spiritual growth as individuals and as a community. Formally, this happens through weekly gatherings which include: one-on-one time with a staff person, meeting with the Hannah House community, study and reflection with other interns, and Good Works staff meetings and retreats. Our gatherings often include worship through music, prayer, bible study, discussion or an educational presentation.
Relationships: Your internship will include building relationships of mutual dignity with people struggling with poverty from the Friday Night Life community, Timothy House, Neighbors Helping Neighbors or Transformation Station. We celebrate the opportunity to share hope—the good news of Jesus—through these relationships.
Leadership: You will be asked to take leadership in different aspects of Good Works' ministry, especially during Summer Service. Each person will be expected to participate in the following five focus areas of Good Works.
Focus Areas: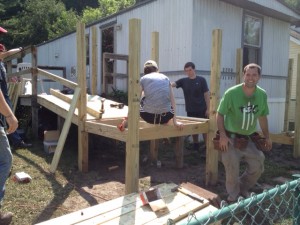 Work Retreats: We receive groups of volunteers and facilitate r
elational service experiences with them in our community. This responsibility includes hosting their stay at the Hannah House, leading their service experiences in Athens County, and assisting them to integrate their learning through meaningful reflection.
Timothy House: This is a community that offers a temporary place to live for people who are without homes. Your time here would include supervising the house and building relationships with the residents.
Friday Night Life: Each intern finds a niche in this community event centered around dinner each Friday. You may build relationships with the participants, help lead the Kids' Club, orient the sponsoring group, run the shuttle vans, or organize events such as food distribution, music and the arts, or gardening.
Neighbors Helping Neighbors: Over the years, Good Works has built long-term relationships with a number of older people in Athens County, many of whom are widowed or have a physical disability. Interns lead groups of volunteers in providing labor-intensive service at the homes of these friends. Visiting (which we call the ministry of presence) is also an important value at play here.
Transformation Station: Interns supervise, work alongside and build relationships with these local volunteers, who are often struggling with poverty. They give their time and skills to serve others and, in exchange, receive a resource such as a vehicle, food or an appliance.
Areas of Choice
Senior Friends: This involves building a relationship with an elderly person in the community by visiting them once a week. Many stories in store!
Praxis: This initiative with Ohio University students will offer hands-on leadership development opportunities working with students as they engage in service to people who struggle with poverty in rural Appalachia.
Kids' Club: Help organize our weekly program with at-risk kids during Friday Night Life. This may include meeting with volunteers, planning activities and games, and building relationships with the children and their families.
Property Management: Help with the upkeep of the two Good Works properties. This includes overseeing and building up volunteers.
Agriculture: Provide labor and leadership in raising nutritious, local food for our community.
Small Businesses: Work in and develop our fair-trade gift store (Good Gifts) or the Good Works Country Bed and Breakfast.
Administration: This may include answering the phone, updating records, grant writing, mailings, or support-raising.
Create your own: Do you have unique gifts that you feel would benefit the ministry of Good Works? Do you work on computers, build websites, do promotion, public speaking…? We want to gear this year as much as possible around your interests, desires, and gifts.
What can I hope to gain from this experience?
Essentially, we desire for each person in this community to become a mature follower of Jesus. We pray that the Holy Spirit would mold us together to be His active, compassionate, suffering and victorious body of Christ on the earth. We hope to boldly share the good news in word and deed with our friends. This is a slow and beautiful process!
Appalachian Immersion could be such a experience for you: engaging in full-time ministry with people struggling with poverty, testing out your spiritual gifts, and discerning your vocation. We hope that you will leave saying, "We loved you so much that we were delighted to share with you not only the gospel of God but our lives as well, because you had become so dear to us" (1 Thess 2:8).
What is included in the curriculum?
Along with your experiential learning we want to equip you and challenge you academically and spiritually with a curriculum including studies of justice, spiritual disciplines, community, simplicity, reconciliation, hospitality, evangelism, God's heart for the poor, worship, and Appalachian culture. This includes various books, discussions, speakers, trainings, and Bible studies.
Is there a cost for this internship?
Good Works' ability to offer the Appalachian Immersion internship depends, in part, on participants willingness to invite people to support them financially. This allows us to provide housing, utilities, food, support staff, curriculum materials and a monthly living stipend to you.* You will be given guidance as you invite people to support you. Good Works, Inc. is a 501(c)3 not-for-profit organization and your supporters will receive a tax-deductible receipt. We are committed to walking with you in trusting God to provide for your needs. If you have questions about the specifics, please contact us.
*Good Works' will provide a monthly stipend to each A.I. approved intern of $500 per month regardless of your ability to raise support.
How do I apply?
You are encouraged to come and visit us for a few days and explore Good Works at a time that works best for your schedule and ours. To begin the formal process of applying, e-mail us at email@good-works.net or call us at 740.594.3339 and ask for Andrea Horsch. When you request an application, we will ask that you return it to us by a certain date. You can also wait until you visit if you prefer.
After we receive your completed application, we will contact you for a formal interview with several Good Works staff members. This includes staying overnight at the Hannah House and participating in some part of the Good Works community, such as a staff meeting. You are encouraged to come to this interview asking questions about Good Works. Although we are interviewing you, you are also interviewing us. We will then contact you after careful consideration and prayer to discuss the result of the interview.
When does this internship start?
While the internship is flexible enough to welcome you at any time during the year, the internship options are:
September 1- December 31
January 1 – May 31
If invited, interns can continue their experience through Summer Service which takes place from June through mid- August. Interns completing 5 or more months with Good Works are often offered key leadership roles in Summer Service during their final months.
What about time off?
Good Works allows for several vacation days during each internship term.  We prefer that you do not take these days during the weeks of Summer Service due to the heightened intensity of ministry and community at the Hannah House.
What do I do about my Student Loans?
Because interns receive a stipend, you may qualify for deferment of your student loans. Talk to us for more information.
What about…?
We have tried to come up with a few questions, but you probably have more. Please do not hesitate to contact us via e-mail or phone and we will try to answer any questions you may have.
Andrea Horsch
PO Box 4
Athens, OH, 45701
740-594-3339
email@good-works.net