Transformation Station
Transformation Station gives people the opportunity to get needed resources while at the same time volunteering in meaningful ways to help other people in the Athens County community. Since 2004 we have been providing people not only a way to get resources they need, but also a way for them to make a contribution to the communities in which they live.
163!
This year we celebrated with the 163rd individual to receive a vehicle through Transformation Station!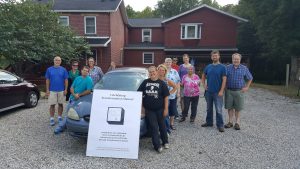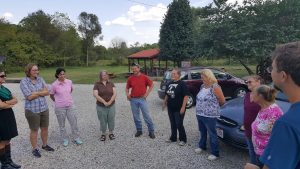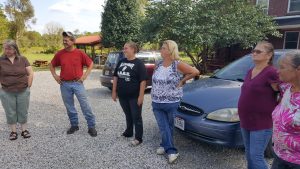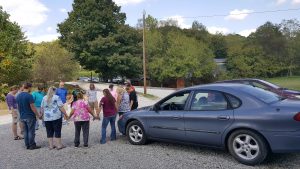 Staff and volunteers come together to celebrate with the person who is receiving their vehicle with affirmation and prayer. As they drive off we all cheer for them. This is all made possible through the generosity of so many people who give of their personal resources to help people in our community who struggle with poverty.
Some things to know about Transformation Station:
Over 500 people have volunteered in Transformation Station since 2004.
Each year, with the help of Transformation Station Volunteers, we serve 50-60 people in the community, doing over 150 projects for people.
Each year, Transformation Station Volunteers give over 2000 hours in service to their community to help others.
These volunteers have received 162 vehicles since the program began.
We have provided over 250 appliances such as washers, dryers and refrigerators.
We have provided 31 pieces of furniture and 19 bicycles.
And 761 crates of food have been provided!
While we are grateful for these numbers, it is rather the people represented by these numbers who are most important to us. There are those who actually volunteer in the Transformation Station volunteer opportunity. Then there are the people who donate their vehicles, appliances, bicycles and food to Transformation Station. And finally, there are the people who volunteer with Good Works to serve alongside our Transformation Station volunteers. Each of these make the transformation part of Transformation Station possible!
To learn more:
(1) If you want to learn more about Transformation Station and how you can volunteer to receive items such as vehicles, appliances, bicycles and food, click here.
(2) Donations are what makes Transformation Station work. If you would like to donate your vehicle, appliance, bicycle or food, click here.
(3) If you want to volunteer with Good Works and work alongside Transformation Station Volunteers, click here.
(4) Click here to view a video about Transformation Station.
What is Transformation Station? The Third Way
by Keith Wasserman
Athens News article about the Transformation Station: 
"Program lets those in need earn cars through community service" by David Dewitt