Honorary Giving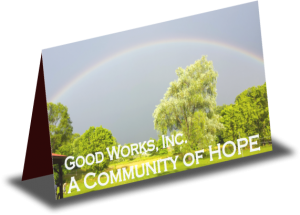 You can financially support Good Works in honor or memory of a loved one. When you donate in this way, we will send an acknowledgement to the recipient* of your choice  via either  US mail or email.
Good Works, Inc. is a registered non-profit in the state of Ohio and has been a federally registered tax-exempt  501 (c) 3 organization since 1984. We will send you a receipt confirming your tax-deductible donation.
* They will not be added to our mailing list unless they request this.
Give the gift of hope…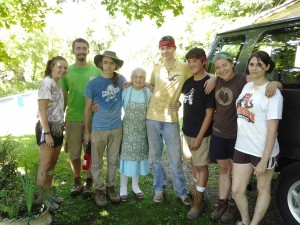 Your gift to honor a friend or relative or the memory of someone special to you…  helps the community of Good Works meet physical, spiritual and relational needs for people struggling with poverty in rural Appalachian Ohio.
Companionship—connecting people who feel excluded and alienated with friendships in a  caring community
Facilitating over 1100 volunteers every year in 30+ different opportunities
Visiting and caring for people at their homes who struggle with a disability or with problems related to aging and loss
Caring for children experiencing poverty in rural Ohio every Friday night and during the summer through Summer Kids Discovery Club
Friday Night Life: Providing a sit-down, community meal and educational and community-building activities including health education
Agricultural initiative: Good Works established and oversees 16 gardens
Transformation Station: People in need earn things they need by volunteering to help others in rural Ohio
The Timothy House: providing shelter to people experiencing homelessness
Neighbors Helping Neighbors: our initiative to organize volunteers of all ages to visit our neighbors and assist them with practical needs at their homes
Send a Check
If you would like to give an honorary gift using cash or a check, please print the form below and mail it to us with your donation. Instructions and our address are included on the form.

 Download Honorary Gift Form
PayPal or Credit Card
To give online using PayPal (which securely accepts credit cards), please use the form below.
*Fields marked with an asterisk are required.